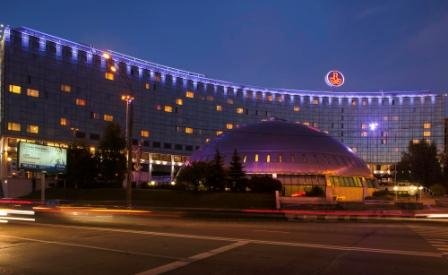 19.06.2013
MOSCOW – 19 June, 2013
– Renaissance Hotels, the hotel brand designed to help guests Live Life to DiscoverSM, will host its second annual Global Day of Discovery on June 19th at more than 100 hotels around the world. On this day, these Renaissance hotels will celebrate by offering both guests and locals the opportunity to get out and discover something new by hosting exclusive in-house RLife LIVE events as well as unique off-property local excursions designed by hotel NAVIGATORS to showcase the unique personality of each destination. 
The Global Day of Discovery celebration officially kicks off Renaissance Hotels' Summer of Discovery, a summer-long calendar of RLife® LIVE events at Renaissance locations around the world designed to help travellers discover the best of the season. RLife LIVE is Renaissance Hotels' industry-acclaimed entertainment program that features live music, art exhibits, culinary programming and more in its hotels around the world. 
"We make a promise to our hotel guests that every time they step into a Renaissance Hotel they are inspired to discover and experience something new and meaningful," said Toni Stoeckl, vice president for Renaissance Hotels. "Celebrating Day of Discovery is just one way we are helping guests to Live Life to Discover this season by encouraging both travellers and locals to make the most of their time by visiting a new local art gallery or listening to an emerging musician perform in one of our hotel lobbies." 
A sampling of events taking place on June 19th include:
• Renaissance Moscow Olympic Hotel will host an exclusive "Underground Fashion Night", which will encourage Hotel guests, as well as locals, to "discover" new "up-and-coming" Russian designers. The Hotel's Metro Bar will transform into a fashion show Mecca, presenting the audience with talented and memorable designers. The culmination of the evening will be Alexander Gusarov's summer collection. The young designer, an Istituto Marangoni graduate, has already become popular and highly respected in the fashion world. Alexander has won several awards and has partaken in many fashion shows, including Volvo Fashion Week. The Hotel's renowned Executive Chef Andrey Kononov will delight guests with delicious fusion "Fashion Bar" appetizers. • Performance and meet and greet with famed country music duo Montgomery Gentry, at the Renaissance Nashville Hotel • Famed Dutch DJ Chuckie, will launch the first solar DJ booth and staging worldwide at the Renaissance Aruba Resort & Casino • Austrian Funk band Hot Pants Road Club performing at the Imperial Riding School Renaissance Vienna Hotel • Discover Pet Adopt-a-thon with the North Shore Animal League at the Renaissance New York Times Square Hotel 
For a full calendar of events happening throughout the summer, please visit www.renhotels.com/discovery and/or visit us at Facebook.com/RenHotels and on Twitter @RenHotels. Additional social media elements designed to engage their guests and unexpected surprises will take place throughout the summer as part of the Summer of Discovery. Visit www.renhotels.com for more information. # # # 
ABOUT RENAISSANCE Renaissance Hotels represents a diverse collection of more than 155 hotels in 35 countries worldwide. Each property is unique, offering passionate travelers a one-of-kind experience and memories they will be sure to take with them long after they depart. Within every hotel, guests are greeted by an exceptional array of amenities and an inspiring world of local discoveries. For travelers looking to experience something new, innovative and locally driven programs including the industry leading entertainment platform RLife LIVE as well as R Navigator, ensure that every trip is transformed into an eye-opening, unforgettable journey. Renaissance Hotels. Live Life To Discover. To discover more visit www.renhotels.com.