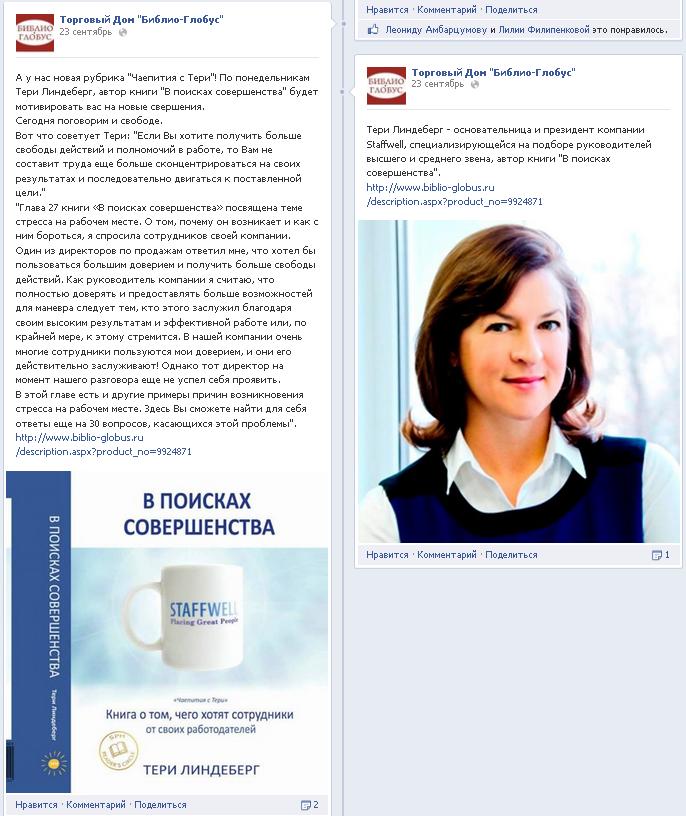 30.09.2013
A Weekly Social Media Event Hosted by Staffwell CEO Teri Lindeberg and Biblio-Globus 
The Moscow bookstore "Biblio-Globus" has launched an interactive Facebook Question and Answer event. Called "Tea with Teri", the event is hosted by Teri Lindeberg, the Founder/CEO of Staffwell and author of the book "Making Perfect".
"Tea with Teri" is a unique opportunity for the followers of Biblio-Globus' facebook page to have their questions answered by an experienced international recruiter. The weekly discussion offers participants new ideas and practical tips for improving their career, based on Teri's personal experience as the CEO of the Russian recruitment company Staffwell. The column "Tea with Teri" is updated weekly, every Monday, in what we hope sets a positive tone of improvement for the remainder of the work week! 
"If you want more freedom at work, nothing says I'm capable of taking responsibility for my own time like consistently beaten objectives." (Teri Lindeberg, founder and CEO, Staffwell).