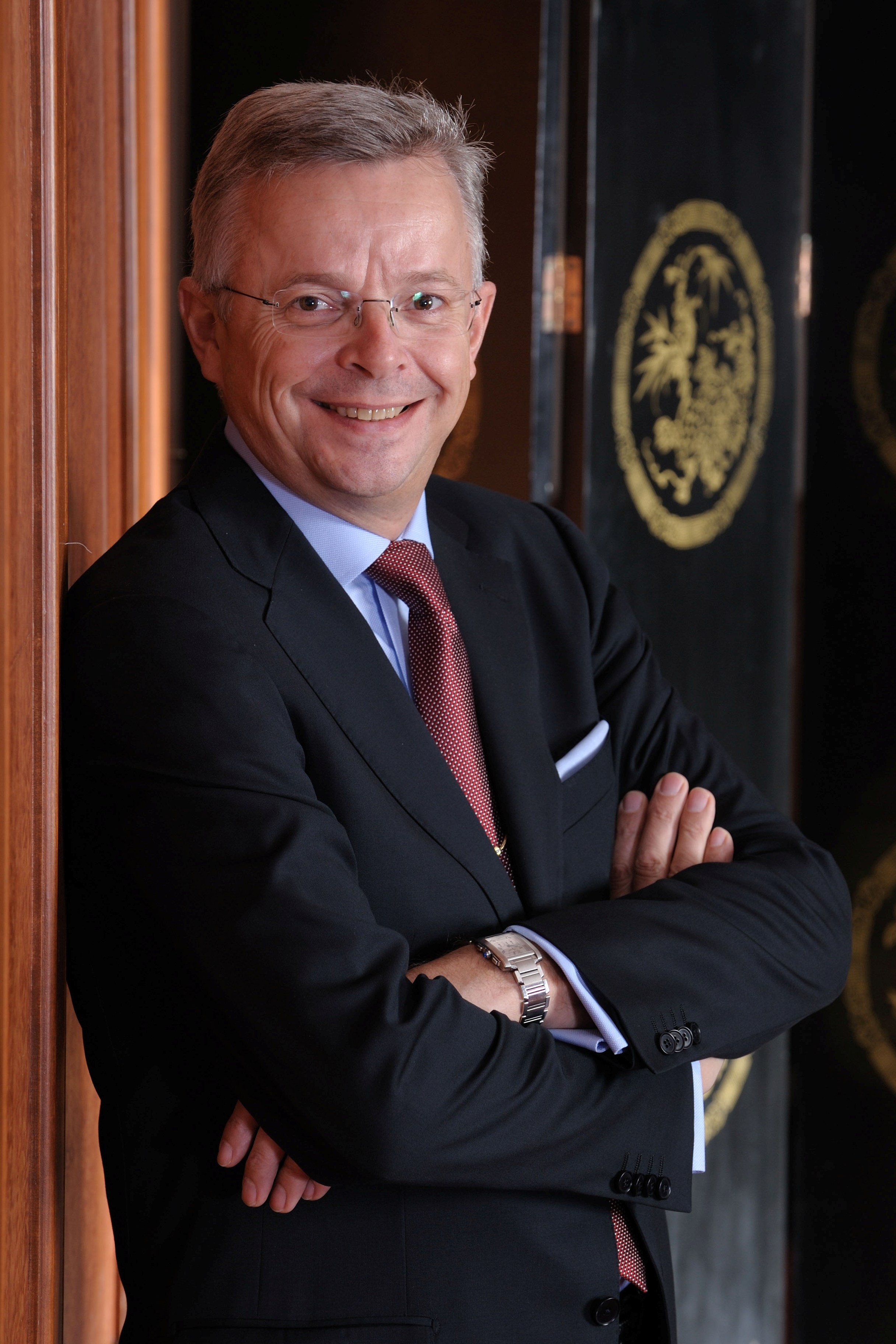 02.08.2013
Moscow, August 1 2013; 
Stephan Interthal has been appointed General Manager of the Hotel Baltschug Kempinski Moscow and Area Director Russia. 
After successfully holding the reins at Kempinski Hotel Beijing Lufthansa, the flagship property in China, for the past three and a half years, Mr Interthal will now take on a new challenge here in Russia, where he will oversee the final stages of renovation and the repositioning of Hotel Baltschug Kempinski Moscow, the cost of which has been estimated at EUR 20 million. 
A true hotelier, with management experience at Kempinski's finest properties, including Kempinski Hotel Corvinus Budapest, Kempinski Vier Jahreszeiten Munich and the legendary Hotel Adlon Kempinski Berlin, Mr Interthal is bringing along with him a wealth of experience from more than three decades in the hospitality industry. 
A graduate of Cornell University and the recipient of a European Business MBA from Reims Management School in 2000, Mr Interthal has been constantly striving for success in terms of providing customers impeccable service that exceeds expectations. 
With his years of extensive experience, apart from being responsible for the flagship property in Moscow Mr Interthal will also be overseeing Kempinski Hotel Moika 22 in St Petersburg, Grand Hotel Kempinski Gelendzhik and the newly opened second Kempinski hotel in Moscow, Hotel Nikol'skaya Kempinski Moscow, in his role as Area Director Russia. With the openings of new hotels in Nizhniy Novgorod and Rostov-on-Don coming up, Mr Interthal looks toward the future with confidence in his ability to continuously improve the quality of service and performance in line with the company's quest to go from good to best. 
A German national, Mr Interthal speaks fluent English and is conversant in French, in addition to his mother tongue. 
His passions in life are for fine dining, wine and being a hotelier; his hobbies include travelling and golfing. 
About the Hotel Baltschug Kempinski Moscow: 
The Hotel Baltschug Kempinski Moscow, a classic European grand hotel with an historic façade that dates back to 1898, is situated in the very heart of Moscow, directly opposite the Kremlin, Red Square and St Basil's Cathedral. The hotel has 230 elegant rooms and suites, most offering magnificent views over the Kremlin. The pride of the Baltschug is the unique suites created by HRH Prince Michael of Kent and Sir David Linley. The hotel boasts the new restaurants Baltschug Grill and Café Kranzler, the Beauty Centre Baltschug, the Health Club, 11 meeting rooms and a business centre. 
About Kempinski Hotels: 
Created in 1897, Kempinski Hotels is Europe's oldest luxury hotel group. Kempinski's rich heritage of impeccable personal service and superb hospitality is complemented by the exclusivity and individuality of its properties. Kempinski now comprises a portfolio of 80 five-star hotels in 30 countries and continues to add new properties in Europe, the Middle East, Africa and Asia. Each one reflects the strength and success of the Kempinski brand without losing sight of its heritage. The portfolio comprises historic landmark properties, award-winning urban lifestyle hotels, outstanding resorts, and prestigious residences. Each one imbues the quality guests have come to expect from Kempinski while embracing the cultural traditions of its location. Kempinski is a founding member of the Global Hotel Alliance (GHA), the world's largest alliance of independent hotels. For further information please contact: Helen Gorbunova ▪ Regional Director PR Eastern Europe ▪ The Hotel Baltschug Kempinski Moscow ▪ Ul. Balchug 1 ▪ Moscow ▪ 115035, Russia Tel. +7 (495) 287 2000 ▪ Fax +7 (495) 287 2002 ▪ 
helen.gorbunova@kempinski.com
 To book or for further information visit www.kempinski.com/press • 
www.globalhotelalliance.com