Brief overview on the recent waste management legislation and the AEB lobbying activities in this respect
Background information on waste management legislation
New Law on amendments to the Federal Law on Production and Consumption Waste and certain legal acts (law on waste management) came into force as of January 1, 2015.
Further to lobbying activities of the business community including the Association of European Businesses (AEB) producers/importers have been granted a transitional period for 2015 since the Government adopted zero recycling normatives for goods. However, for the majority of goods producers/importers have already to implement responsibility in accordance with the Law starting from 2016.
According to the Law producers/importers have two options. They can implement responsibility by their own (by building their own infrastructure, concluding agreements with waste management (WM) operators, a regional operator, any legal entity or individual entrepreneur dealing with WM or through establishing an association (a union) to which they can delegate fulfillment of recycling normatives. The other option is to pay an ecological fee to the federal budget.
Producers/importers have to declare goods for recycling and report about fulfillment of recycling normatives by April 1 to Rosprirodnadzor (The Federal Supervisory Natural Resources Management Service). If they choose to pay an ecological fee to the federal budget (also via Rosprirodnadzor) it has to be done by April 15. There is a set of documents regulating the whole WM process, some of them (decrees on the list of goods for recycling, reporting on fulfillment of recycling normatives, declaration of goods, recycling normatives) are now under revision since several aspects are not covered clearly enough in the legislation.
AEB lobbying actions on waste management
The AEB has been active in the field of waste management legislation for several years. For these purposes the AEB established a cross-industrial Working Group on Waste Management which prepares positions on the question and participates in discussions with state authorities. The intensive work is also carried out in the industrial committees (SHES, crop protection, home appliances, tires producers, retail, others) with an accent on industries' specifics.
Some industries in the AEB have already launched or are strongly considering launching pilot projects on implementation of waste management responsibility. The AEB is also in close contact with recycling companies and takes efforts in setting up interaction between producers/importers, recycling companies and other interested companies dealing with waste management.
The AEB cooperates closely with the RF Ministry of Natural Resources and Ecology, Ministry of Construction and Housing Utilities, Ministry of Economic Development, the Federal Antimonopoly Service and other state bodies responsible for implementation of waste management responsibility who ask for the AEB expertise and best practices from other countries. In this respect the AEB having expertise in lobbying in the waste management field is also a platform for a dialogue between different industries and state authorities.
For more information please contact Maya Limonnikova, AEB Legal Advisor, maya.limonnikova@aebrus.ru
Additional materials on waste management
AEB events on waste management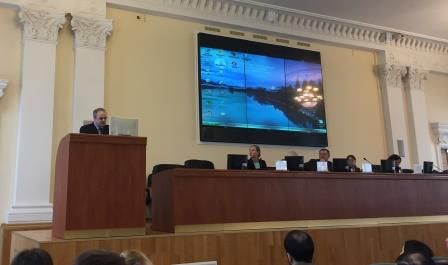 Meeting with Rosprirodnadzor on 26 December, 2016

Meeting with Rosprirodnadzor on 17 November, 2016
AEB Conference "WASTE MANAGEMENT: THE NEW RUSSIAN WASTE LEGISLATION AND ITS PRACTICAL STEPS", 2016
http://www.aebrus.ru/en/aeb-events/detail.php?ELEMENT_ID=3504501
Round Table "New waste management regulation and its impact on business", 2015
http://www.aebrus.ru/en/aeb-events/detail.php?ELEMENT_ID=1737693
http://www.aebrus.ru/en/aeb-committees-and-working-groups/index.php?ELEMENT_ID=14092
Federal Law №89-FZ https://rg.ru/1998/06/30/utilizaciya-dok.html
Federal Law №458-FZ https://rg.ru/2014/12/31/othody-dok.html
Federal Law №404-FZ http://www.kremlin.ru/acts/bank/40409
Decrees and other documents
Decree on the list of goods for recycling http://government.ru/docs/19831/
Decree on recycling normatives
http://government.ru/media/files/BqlX2fLb9r6fAZepAAoAaAoDT9UNFBvU.pdf
Decree on declaration of the released goods http://government.ru/docs/all/104777/
Decree on reporting of fulfillment of recycling normatives
http://government.ru/media/files/AZIfAtAcektc5waPqyhgkVHtTramX40r.pdf
Decree on the ecological fee rate
http://government.ru/media/files/LqJN7wXUMbwfpgkKwMqqd6NIOep6Ya8R.pdf
Decree on the order on collection of the ecological fee
http://www.mnr.gov.ru/activities/detail.php?ID=142750&spetial=Y
Decree on the order of implementation of responsibility http://government.ru/docs/21376/
Decree on licensing of activities in the waste management field
http://government.ru/docs/19994/
Decree on selection of regional operators
http://government.ru/docs/24462/
Decree on the unique state system of waste counting (EGAIS)
http://government.ru/media/files/WSuGVRqa1g53mautrrZXIaPWc90hg3Ew.pdf
Recommended recycling act forms:
http://54.rpn.gov.ru/sites/default/files/%D0%9A%D1%83%D1%81%D0%BA%D0%BE%D0%B2%D1%81%D0%BA%D0%B0%D1%8F/akt_1.pdf 
http://54.rpn.gov.ru/sites/default/files/%D0%9A%D1%83%D1%81%D0%BA%D0%BE%D0%B2%D1%81%D0%BA%D0%B0%D1%8F/akt_2.pdf
Explanations of the state bodies
Waste management responsibility questions 

news from Rosprirodnadzor website http://rpn.gov.ru/node/27600
a court decision http://www.mos-sud.ru/ms/369/act/as/?id=2752938&year=2016
Rosprirodnadzor's explanations on implementation of the Law http://rpn.gov.ru/node/851
Ministry of Natural Resources and Ecology's explanations regarding ecological fee payment and declaration of goods, packaging http://www.mnr.gov.ru/regulatory/detail.php?ID=142214
Amendments to the important bylaws (ongoing, as of October 19, 2016):
List of goods for recycling http://regulation.gov.ru/projects/List/AdvancedSearch#npa=46467
Declaration http://regulation.gov.ru/projects#npa=49489
Reporting http://regulation.gov.ru/projects#npa=49483
Recyclinhg normatives http://regulation.gov.ru/projects/List/AdvancedSearch#npa=52935 -
Recent articles and videos
Росприроднадзор доводит до сведения заинтересованных лиц рекомендованные формы актов утилизации отходов http://54.rpn.gov.ru/node/28774
Руководитель Росприроднадзора принял участие в расширенном заседании Комитета Госдумы по экологии и охране окружающей среды http://rpn.gov.ru/node/28141
Рассмотрена новая «дорожная карта» реформы в сфере обращения с коммунальными отходами http://www.komitet2-21.km.duma.gov.ru/site.xp/052057124050050050057.html
Ольга Тимофеева: «Реформа в сфере управления отходами поставлена под жесткий парламентский контроль» http://www.komitet2-21.km.duma.gov.ru/site.xp/052052124050050050055.html
В рамках Московской экорезиденции обсуждены правовые основы для развития вторичной переработки отходов http://www.komitet2-21.km.duma.gov.ru/site.xp/052052124050050049055.html
http://www.vedomosti.ru/economics/articles/2016/11/30/667495-othodov-nelzya-zahoronit
http://www.kommersant.ru/doc/3155413
http://www.vedomosti.ru/business/articles/2016/10/14/660906-pivovari-butilki
http://www.vedomosti.ru/economics/articles/2016/10/19/661534-pererabotku-othodov
http://www.komitet2-21.km.duma.gov.ru/site.xp/052052124050050049053.html
https://russia.tv/video/show/brand_id/9361/episode_id/1335133/video_id/1523086/
https://rg.ru/2016/09/28/sergej-donskoj-chislo-levyh-svalok-v-20-raz-prevyshaet-chislo-legalnyh.html
http://www.kommersant.ru/doc/2923542