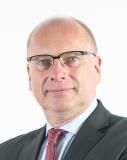 Dr. Frank Schauff
Dr. Frank Schauff was elected Chief Executive Officer in June 2007 and re-elected in April 2016 for the fourth term. Dr. Schauff's professional and academic experience position the AEB to promote and expand recognition in Russian and expatriate circles of lobbying and policy advisory.
Before joining the AEB, Dr. Schauff held the post of Advisor on Foreign Policy to the Party Executive of the Social Democratic Party of Germany (SPD) from 2001.
Dr. Schauff has had a deep interest in Russia since his days as a student of Russian Studies at the University of Cologne and Volgograd State University (USSR). He went on to take a degree in Economic History and Political Science at the London School of Economics and Political Science (LSE) and a Masters Degree in The Government and Politics of Russia and Economic History. He obtained his doctorate in East European history from the University of Cologne in 2000, and spent a number of years as a lecturer in East European studies at the Free University in Berlin. Dr. Frank Schauff holds a degree of Master of Business Administration (MBA), PFH Private University of Applied Sciences, Göttingen.
Dr. Schauff's academic background is accompanied by a strong linguistic attainment – aside from his native German, Dr. Schauff speaks or understands English, Russian, Spanish, French, Italian, as well as conversational Bulgarian, Croatian and Serbian.