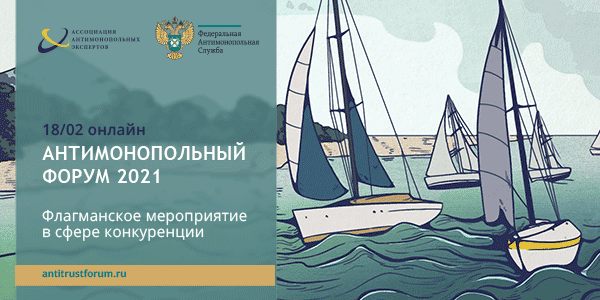 The Competition Experts Association and the FAS Russia invite you to take part in the flagship event in the field of competition - Antimonopoly Forum 2021. 
The head of the Federal Antimonopoly Service Maxim Shaskolsky and Member of the Board (Minister) for Competition and Antimonopoly Regulation of the Eurasian Economic Commission Arman Shakkaliev will speak at the plenary session of the forum.
Date: February 18, 2021
Time: 9:00 - 18:00
Format: online
Cost: free, subject to registration
Also speaking:
•  Alexey Dotsenko, Deputy Head of the FAS Russia
•  Mikhail Evraev, Deputy Head of the FAS Russia
•  Andrey Kashevarov, Deputy Head of the FAS Russia
•  Sergey Puzyrevsky, Deputy Head of FAS Russia
•  Artem Molchanov, Head of the Legal Department of the FAS Russia
•  Ilya Mikin, Head of iHerb Russia;
•  Igor Bashlakov-Nikolaev, Counsel, PJSC NOVATEK, Ph.D. in Economics, Master of Law
•  Tatiana Panyaeva, Country Legal Manager, Coca-Cola HBC Eurasia
The forum will be dedicated to topical subjects of competition enhancement in Russia and abroad:
•  What new economic analysis tools are being used to assess digital platform markets?
•  Network effects, bilateral markets, key powers in digital markets - how does the regulator see this and is it possible to persuade them?
•  Present and future control of public procurement: formal or substantive?
•  Unfair competition: guarding competition or the consumer? Double standards in the products manufacturing, tricks of banks, hidden unfair practices in the promotion of goods.
•  What set of evidence confirming the inability to dominate within a "collective" should a company provide to the regulator in order to avoid sanctions?
•  Is the fate of private antitrust lawsuits unhappy?
Participate in the Antitrust Forum 2021, get the opinion of the regulator and get advice from colleagues who know competition laws and practice inside out!