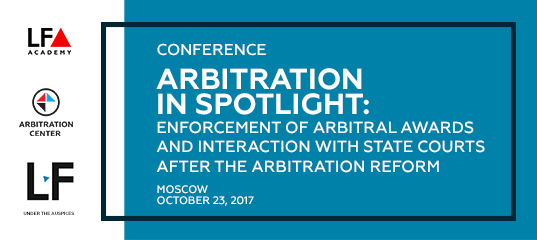 The Association of European Businesses (AEB) invites you to the conference "Arbitration In Spotlight: Enforcement Of Arbitral Awards And Interaction With State Courts After The Arbitration Reform" 
The conference will take place on October 23 in Moscow under the auspices of the St. Petersburg International Legal Forum.
To learn more about the programme and the speakers, or to register, please visit  
Arbitr.LFAcademy.ru 
Keynote topics of the conference: 
•
Russian arbitration: quo vadis? First outcomes of the reform
•
Practical Aspects of Arbitration in Hong Kong: HKIAC's Perspective
•
State courts and arbitration: annulment, recognition and enforcement of arbitral award in Russia and abroad
•
How to make recognition and enforcement of an arbitral award efficient: interactive practical workshop
Speakers:
•
Tamara Abova, Chief of the Civil Law and Civil Procedure Sector, Institute of State and Law of the Russian Academy of Sciences;
•
Anton Asoskov, Member of the Presidium and Head of the Nominating Committee for Corporate Disputes, International Commercial Arbitration Court (ICAC);
•
Yury Babichev, Head of Group, International Arbitration, Cross-Border Litigation, Shareholder Dispute, Goltsblat BLP LLP;
•
Chiann Bao, Counsel at Skadden, Arps, Slate, Meagher & Flom LLP;
•
Alexander Bolomatov, Partner, YUST Law Firm;
•
Artem Doudko, Counsel, White & Case LLP;
•
Alexei Dudko, Partner, Hogan Lovells (CIS);
•
Evgeniya Goriatcheva, Legal Counsel, Permanent Court of Arbitration, the Hague;
•
Anna Grishchenkova, Partner, KIAP;
•
Joe Liu, Managing Counsel, Hong Kong International Arbitration Centre (HKIAC);
•
Andrey Panov, Senior Associate, Norton Rose Fulbright;
•
Ilya Rachkov, Partner, King & Spalding;
•
Evgeny Raschevsky, Partner, Egorov Puginsky Afanasiev & Partners;
•
Klaus Reichert SC, Barrister, Brick Court Chambers;
•
Andrey Zelenin, Managing Partner, Head of Dispute Resolution Practice, Lidings.
The conference is hosted by the educational resource LF Academy and the Arbitration Centre at the Institute of Modern Arbitration.
Contact information:
+7(812) 449-36-21