We are glad to invite you to the International business conference «InRussia», which will take place on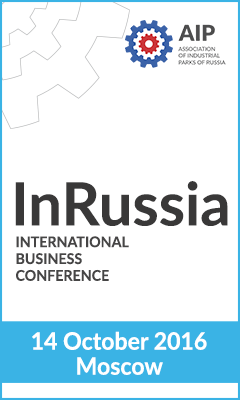 14 October, 2016 in Moscow.
The conference is going to become a platform for the dialogue between international business and Russian companions – prospective business partners, development institutions and government authorities. 
The conference «In Russia» is designed by the organisers as a business venue for discussion of practical aspects of international business development in Russia. The subject of the Conference covers the whole range of issues from retaining market position in a turbulent state of economy, participation of products and technology suppliers in the process of import substitution to localisation of production and R&D in Russia.
This year the AEB has traditionally become a business partner and co-organiser of the annual AIP event, which has become a logical continuation of the AIP Forum, held since 2010. Together we expect to create a platform for establishing new contacts, finding business partners, attracting investments and to discussing business issues in Russia, bringing together representatives of international corporations and Russian business, the leading expert organisations, representatives of government agencies and regional development corporations, investment companies and financial institutions from more than 50 regions of Russia and from 20 countries. 
The event is supported by the Ministry of Industry and Trade, Ministry of Economic Development, Ministry of the Russian Federation on the development of the Far East with the participation of their representatives.
The CEO of the AEB Frank Schauff participates as a key speaker of the Plenary session of the Conference.
BUSINESS PROGRAMME
Plenary session «How you Trade in Russia», the session of B2B meetings and presentations and two panel discussions - «How you Make in Russia» and «How you Create in Russia» will form the basis of the business programme. In the evening, participants are invited to the party «Internations in Russia».
More details on the InRussia website.
In the personal account on the web-site www.inrussia.pro each participant has an opportunity to meet and set up a meeting with other participants.
For the purpose of B2B meetings service is available a Business Concierge service, interpreters and a special B2B-area. 
PARTICIPATION FEES
For AEB members — a 50% discount: 20 000 ₽ (instead of 40 000 ₽).
VENUE
Conference-centre of  Swissôtel Krasnye Holmy MOSCOW, Kosmodamianskaya nab., 52 bld. 6
CONTACTS
For more information about all issues, please contact the Conference Organising Committee:
Hotline: +7 495 517 69 13
Web-site  www.inrussia.pro
- General issues: Julia Ilyina, tel + 7 903 554 48 49, ji@indparks.ru
- Participation issues: Tahir Khairetdinov, +7 925 730 80 92, inrussia@indparks.ru
- Partnership and media: Yana Leles, + 39 388 499 7236 +7 925 083 93 80, ly@indparks.ru
- Business programme questions: Maxim Pazdnikov +7 926 101 86 54, pm@indparks.ru