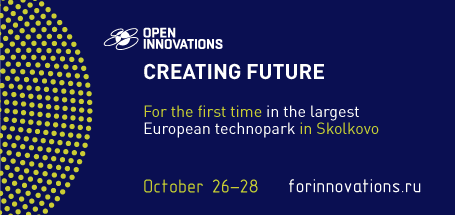 Open Innovations 2016: new location, new format
The 5th annual Open Innovations Forum will take place on the 26-28 of October. This year the Forum will be held at Skolkovo Technopark.
For three days Skolkovo Innovation Centre will become the place to share knowledge and experience in the sphere of technology entrepreneurship and innovative development. The Forum will open its doors for more than 12 thousand guests from 30 countries.
The Open Innovations 2016 Forum will host more than 90 various events: from panel discussions, presentations and lectures to workshops, pitch sessions and hackathons. All events are organised and designed to have interactive formats.
The business programme will be opened by the Space for Disruption Day. Renat Batyrov, CEO at Technopark Skolkovo: "This year the Forum is dedicated to technology entrepreneurs and people who aspire to become one. We will talk about technologies that aid development: from discussing the high-tech sector and latest technological trends that create new markets, to collaboration technologies that lead to expansion of businesses."
To see the full programme please visit the Forum's website.
AEB members get a special offer: a 30% discount off the participation fee. To get the promocode please contact the organiser at openinnovation@sk.ru.
Registration is open till 19 October: https://forinnovations.ru/registration.
Contacts:
On common issues please contact openinnovation@sk.ru 
+7 (495) 956 00 33, internal: 2441, 2839, 2453 
 
Hotline: 8 (800) 250 09 21 
 
Payment or participation: 8 (495) 763 05 22