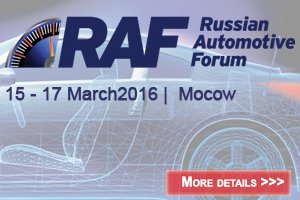 We would like to invite all AEB members to take part in the 19th Russian International Automotive Forum. The event will take place on 15—17 March 2016, at Radisson Royal Hotel, Moscow, Russia.
Bo Andersson of AVTOVAZ, Vadim Sorokin of GAZ Group, Alexander Sorokin of Avtotor Holding, Patrick Husemann of Volkswagen Group Rus, Nikolay Khodosevich of Ford Sollers and many other market leaders will be discussing the current state of the industry and future prospective at the Russian Automotive Forum in Moscow on 15-17 March 
RAF is the must-attend annual event for everyone active or interested in the Russian automotive industry, providing you with the market intelligence and networking opportunities that are vital for managing a business in Russia.
Only at RAF:
THE AUTOMOTIVE OUTLOOK: market statistics, forecasts and trends from leading global and Russian automotive analysts
THE INDUSTRY SPEAKS: major OEMs and suppliers on their answer to the current crisis
PURCHASING DIRECTORS INSIGHTS: first-hand information on purchasing strategies and suppliers selection criteria from leading OEMs and Tier 1 suppliers
ONE-TO-ONE MEETINGS with purchasing directors from OEMs & Tier 1 suppliers
NEW SESSION: Export opportunities for the Russian automotive industry
NEW MASTERCLASS: Effective product pricing strategy
COMPONENTS SPECIFIC SESSIONS: powertrain and transmission, plastic part, body and chassis
Full details about RAF, including programme and speaker line-up, visit website http://www.russianautomotive.com/
Don't miss this opportunity to hear from all the leading players, who will analyse the latest trends and developments in the Russian automotive industry. Be inspired by their strategic and practical ideas and find out how to survive and succeed in these challenging times!
To book your place visit website http://www.russianautomotive.com/
Get a 15% discount* by quoting VIP code AS2423AEB
*T&C apply