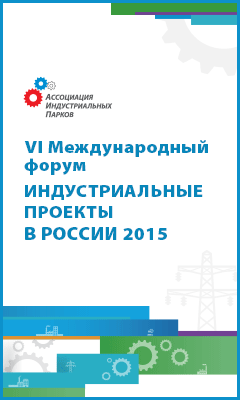 The Association of European Businesses is pleased to invite you to the Sixth International Forum "Industrial projects in Russia-2015", which will be held on 2—3 July, 2015 in Moscow.
AEB member manufacturing companies can attend the forum FOR FREE, and other member companies receive a 20% discount. 
The forum is organised by the Association of Industrial Parks, supported by the Ministry of Economic Development and the Ministry of Industry and Trade of the Russian Federation
In order to participate, you have to register at:
www.forum.indparks.ru
and get the e-mail confirmation from the forum organising committee.
The forum "Industrial projects in Russia" has been held annually since 2010 and has established itself as a unique platform which unites professionals in the field of industrial parks (regional development institutions, facility management companies, private owners, developers, designers), investors, representatives of the state authorities, financial institutions, and large consulting firms. In 2014, the forum was attended by more than 750 people, including representatives of almost every industrial area of the country, and the response in the business community and media was resoundingly positive.
The two-day forum programme includes two plenary sessions with representatives of the Government of the Russian Federation, heads of Russian companies and international experts, as well as topic-based sessions, a series of workshops on applied problems and study tours around the industrial parks.
The working language of the forum is Russian, provided with a simultaneous English—Russian translation.
The programme, speakers and detailed information about the forum are available at: www.forum.indparks.ru.
For all questions the organising committee can be contacted at: +7 495 517 69 13, or by e-mail at: forum@indparks.ru