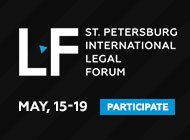 VIII St. Petersburg International Legal Forum supported by the Association of European Businesses
VIII St. Petersburg International Legal Forum will take place on 15-19 May, 2018 
Registration for the Forum is open. 
AEB members get a special offer: a 10% discount off the participation fee.
To get the discount please add "AEB2018" in remarks at 
registration page
.
St. Petersburg International Legal Forum (SPBILF) is a unique international conference that brings together the leading minds of the legal profession. The annual SPBILF, founded in 2011, is organized with the support of the Ministry of Justice of the Russian Federation and the President of the Russian Federation. Over the years, the SPBILF has emerged as a foremost international platform for discussing a broad range of urgent questions confronting the contemporary international community of legal professionals.
Over 4,000 lawyers from 79 countries attended the 111 events of the SPBILF business programme in 2017. Over 500 speakers brought up highly topical issues, from court practice and antitrust regulation to the impact of technology on jurisprudence and the protection of cultural heritage, as the diverse discussion formats unfolded. 
The Business Programme of the VIII SPBILF
features over 40 discussion sessions covering a broad spectrum of topics in law, enterprise, politics and culture, subsumed under 9 theme tracks:
1.
International Law. Justice. Rule of Law
4.
International Projects. Investments. Finance
5.
Litigation and Arbitration Practice. Dispute Resolution
7.
Subsoil Use. Energy. Ecology
9.
New Challenges: New Competition Policy
The II International Insolvency Forum
 will take place on May, 16-18 as a part of the VIII SPBILF.
First held during SPBILF 2017, the Forum offered world-class debate on matters of pressing concern in insolvency. This year, the participants will again have the opportunity to discuss a range of insolvency issues currently on the global socioeconomic agenda.
The upcoming
SPBILF will include a gala ceremony, in which the winner of the 
St. Petersburg International Legal Forum Private Law Prize
will be awarded. Established in 2017, the conferral of this truly global academic award is intended as a testimony of its winner's ultimate academic excellence, while the cash component of the Prize is meant to advance the realization of the laureate's ideas of worldwide significance.
+7 (812) 449-36-21