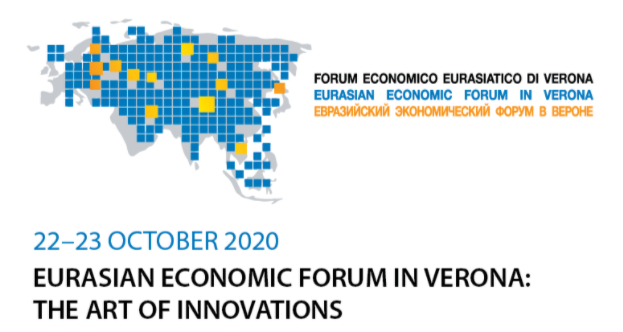 The 13th Eurasian Economic Forum
will take place in Verona, Italy, on 22–23 October, 2020.
THE ART OF INNOVATIONS
NEW REALITY OF GLOBAL ECONOMY FROM THE ATLANTIC TO THE PACIFIC


Organizers

Association Conoscere Eurasia, Roscongress Foundation, St. Petersburg International Economic Forum

Co-organizers

Association of European Businesses, Russian Union of Industrialists and entrepreneurs

Location 
Place Palazzo della Gran Guardia, Verona (Italy)


On 22–23 October 2020, Verona will host the XIII Eurasian Economic Forum. The event is being organized by the Roscongress Foundation and the Conoscere Eurasia Association.
The Forum will be one of the few offline events to take place in 2020. Discussions will focus on a wide range of practical issues to do with trade and economic collaboration across an area stretching from the Atlantic to the Pacific. Topics will include the future of the oil industry, economic recovery models in the wake of the pandemic, growth prospects for the gas industry, the search for a new geopolitical and socioeconomic order, and genetics and genome research.
The sanitary regulations in place in Italy mean that attendance at the event will be strictly limited and be by invitation only. Sessions on the business programme will be streamed on the Roscongress Foundation's website and social media pages, the website of Banca Intesa, and the official Forum website.
Day 1 (22 October)
10:00 Opening. Welcome remarks from the organizers
11:00 Special session - The future of the oil industry: a new strategic outlook on demand, supply and market balance, and the pursuit of a new socioeconomic development model
15:30 Session 1 - Different global recovery models and strategies for rebooting economic growth and prosperous international trade
16:45 Session 2 - Prospects for the gas industry, particularly LNG, in the new economic reality
17:45 Session 3 - The structural economic crisis and the pandemic: seeking a new geopolitical and socioeconomic order (Europe, Eurasia, USA, China)
18:45 Session 4 - The key role of genetics and genome research in the new socioeconomic reality: the contribution made by gene technologyto medicine, the environment, agriculture, industry and energy
19:45 Summary remarks
Day 2 (23 October)
10:00 Opening of the second day
11:00 Session 5 - How can banks, fintech and financial regulators respond to young people calling for more socioeconomic responsibility?
12:00 Session 6 - Overcoming social inequality and poverty as today's society evolves
13:00 Session 7 - The current socioeconomic crisis: is it time to re-energize dialogue between Europe and Russia?
15:30 Session 8 - Interactive panel - Rethinking global healthcare systems in the Covid-19 era
16:30 Summing up
CONTACTS
Conoscere Eurasia Association:

11, Via dell'Artigliere,

37129, Verona

The Roscongress Foundation:

12, Krasnopresnenskaya Nab.,

Moscow, 123610

+39 (045) 802 0904 (Verona)
+7 (495) 411 8080 (Moscow)
info@conoscereeurasia.it
CONOSCEREEURASIA.IT

+7 (495) 640 4440

+7 (812) 680 0001