28.07.2022
During the month of June, we asked our members to share their AEB membership experience feedback for the past year.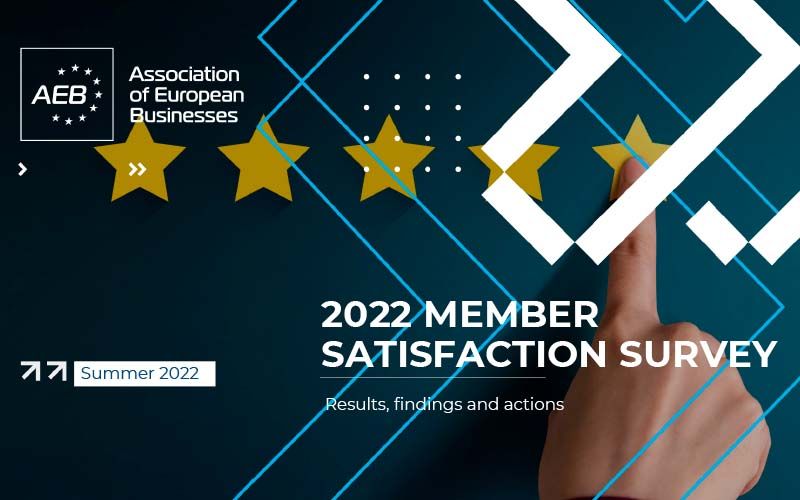 We received 50 responses from 45 companies with HQs in 13 different countries, representing nearly 10% of our membership base. Here are some of the things that we heard from you. 
Your top-3 most expected benefits of AEB membership are crisis response initiative, market/GR information, and participation in committees & working groups. Over the past year we have met or exceeded expectations with respect to these in 98% of cases (+9% to 2021). 
For 56% involvement with AEB over the past year has increased or significantly increased and overall, on average, you scored us 9.0 for the likelihood to recommend AEB to your business partners (+0.4pts to prior year). 
You are well informed about our crisis response initiative, receiving our newsletters and participating in webinars. The daily newsletter appears to be most valuable to you. You are also well informed about AEB events & conferences and nearly half of respondents have attended 7 or more events over the past year. For 94% of respondents these events have met or exceeded expectations. You would equally like to see more of both online webinars and offline conferences/roundtables. Vast majority of respondents are well aware about committee and working groups activity and over half participate in them at least occasionally. For vast majority the committees meet expectations. 
Our most frequently read publications are AEB weekly, Business Quarterly and Annual Report. You also find them to be the most valuable. In our publications you would like to see more information about AEB members and other companies as well as sectoral spotlights. We should enhance our communication on other AEB benefits such as regional activities, loyalty program and HQS/One-window visa services.
We would like to thank all participants once again – your honest and open feedback is crucial in helping shape the future of AEB and all your valuable comments are being processed for actionable steps we could take to improve your membership experience further!