25.08.2015
On 25 August 2015, the AEB in cooperation with the international exhibition operators Messe Frankfurt and ITE organised the 6th International Forum "The Automotive Industry and Autocomponents Market in Russia", which took place in Moscow. More than 150 delegates participated in the Forum, including representatives of the government, professional associations and manufacturers.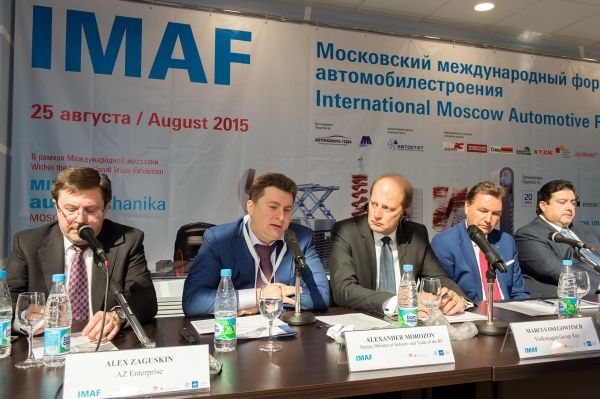 Frank Schauff,
the CEO of the Association of European Businesses, and
Eugen Alles
, the General Director of Messe Frankfurt Rus, made the opening remarks. 
Among the speakers were: Bo Andersson, the President of Avtovaz; Kirill Epstein, Director of Automotive components Division, GAZ Group; Marcus Osegowitsch, the General Director of Volkswagen Group Rus; Jaron Wiedmaier, the General Director of Continental Tires; Nikolay Khodosevich, the Deputy Vice President and Director of Production Purchasing of Ford Sollers; Andrey Tomyshev, the Automotive Sector Leader of EY (CIS); Joerg Bongartz, the Chairman of the Board of Deutsche Bank Russia; and Sergey Tselikov, the Director of AA "Autostat". 
Alex Zaguskin, the Managing Director of AZ Enterprise, Igor Morzharetto, an automotive expert, Sergey Tselikov, the Director of AA "Autostat"and were the moderators of the event.
The participants discussed issues and elaborated on business opportunities within the Russian automotive industry, including:
- The new stage of the automotive industry in Russia: trends, forecasts, prospects; 
- The financing and refinancing of projects in the automobile production industry; 
- The secondary component market in Russia; 
- The localisation during the economic crisis and so on.