17.10.2018
On 17 October 2018 The Association of European Business (AEB) and the All-Russian Public Organisation 'Business Russia' have signed a Memorandum of Cooperation in order to unite efforts to create more favourable investment and business climate in Russia.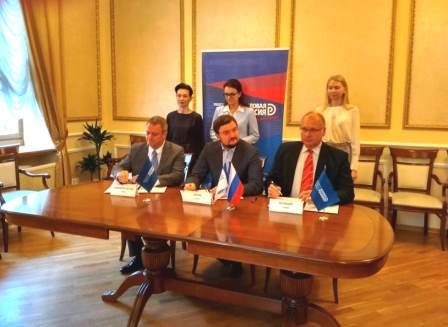 Alexey Repik, President, Business Russia, signed the Memorandum on behalf of his organisation. 
On behalf of the AEB, the document was signed by Frank Schauff, CEO, and Johan Vanderplaetse, Chairman of the Board.
Johan Vanderplaetse noted that " Memorandum of Cooperation has become a part of the natural development of close cooperation between the two organisations in the field of protection of the interests of the business community, as well as of the constructive dialogue with the legislative and executive authorities".
"Taking into account the deterioration of the political situation, we should focus together on supporting the trade and investment activities of companies in Russia and the EU," -  added Frank Schauff.
The parties expressed their intention to promote the expansion of business contacts between the AEB and Business Russia, as well as between their member enterprises, organisations, firms and entrepreneurs, and also to provide maximum assistance to the development of trade, economic, administrative, scientific and technical relations.
Пресс релиз о подписании Меморандума АЕБ-ДР Rus.pdf

View/Open
ENG_Preliminaty program Intersec Forum Russia_181018 (1).pdf

View/Open
RUS_Preliminaty program Intersec Forum Russia_181018 (2).pdf

View/Open
MoU members.pdf

View/Open