28.05.2021
On May 28, 2021, the AEB presented the results of the 14th AEB Annual Survey «Strategies and Prospects for European Companies in Russia»,conducted by the International Institute of Marketing and Social Research GfK Rus.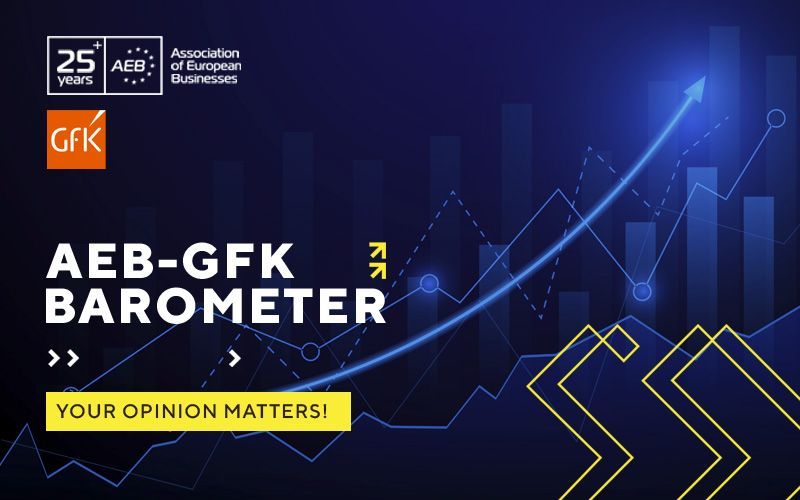 The event was moderated by Stuart Lawson, Member of the Board of the AEB; Senior Adviser, EY; Director, Skolkovo Ventures, with participation of Tadzio Schilling, AEB CEO.
Alexey Dorofeev, Managing Director, GfK-Rus, presented the findings of the 14th AEB Annual Survey «Strategies and Prospects for European Companies in Russia» and AEB-GfK Barometer (which has become a traditional equitable indicator of the perception of the business environment). 
For several years, the survey has been a highly valuable source of first-hand information. By answering the survey, our members provided us with up-to-date data about the situation of European companies in Russia. The current study was conducted in April-May 2021 and included 105 companies.
The AEB-GfK Composite Index increased by 28 points compared to last year and is 145 points out of a possible 200. The main contribution to the growth of the index was made by the assessment of business development during the first 3 months of 2021 and short- and medium-term expectations for the future development of business and the economy of the country. The index is in the area of positive expectations at the level of 2019, 2017 and 2013.
The main reasons for entering the Russian market remain its high potential, its development and the large volume (95%, 93 % and 91% of companies respectively noted these reasons as the most important).
The main obstacles to companies' activities in Russia, according to the interviewed companies, are the remaining regulatory restrictions, epidemiological restrictions, lack of qualified personnel and insufficient reliability of the supply chain. 
This year, the survey expectedly included questions regarding the impact of COVID-19 on businesses. According to the feedback received, during the coronavirus pandemic, nearly half of companies (43%) marked their business decline, but one in five of them (20%) has already been able to recover and fully return to pre-crisis levels. Half (47%) of those who have not yet managed to do so predict a return to previous levels by mid-2022, while the rest will need more time.
"Despite the fact that the global economic crisis provoked by the COVID-19 pandemic is not over yet, the 2021 AEB-GfK Index showed a record jump into the area of positive expectations which we consider to be a very encouraging sign. Although, for a number of reasons, the business environment today is not ideal, the growth of investment activity and the focus on sustainable business development indicate that the pandemic has not been able to dramatically change the investment attractiveness of Russia in the eyes of foreign investors or to disrupt the plans of European companies in Russia", - commented Tadzio Schilling, AEB CEO.
Repot AEB RUS 2021.pdf

View/Open
Repot AEB ENG 2021.pdf

View/Open