22.09.2023
On September 22, 2023, a joint open event "Tendencies of Japanese and European Businesses in Russia" was held, organized by the Association of European Businesses and the Japanese Business Club. Representatives of European and Japanese businesses in Russia discussed assessments of the business climate and trends in the work of companies in Russia.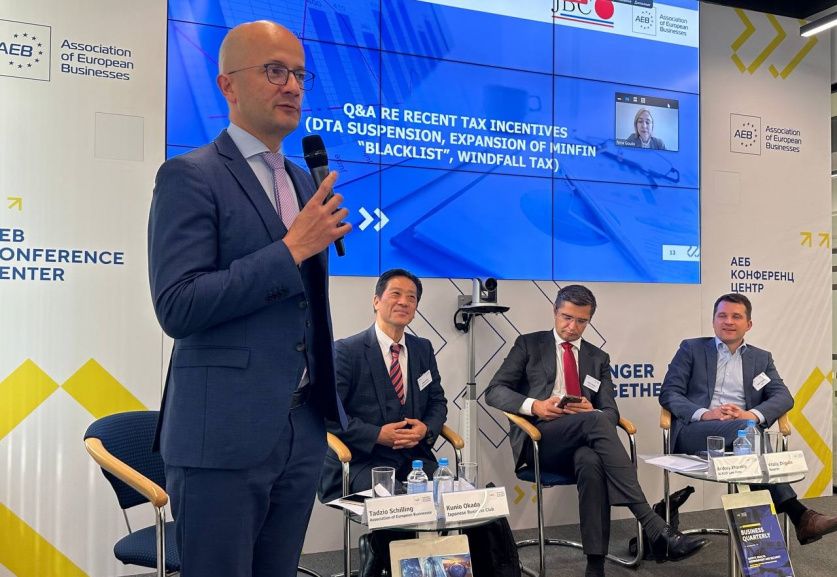 Tadzio Schilling, AEB CEO, presented the results of the AEB annual business survey for 2023. Tetsuya Umetsu, CEO of JETR Tetsuya Umetsu, Director-General, JETRO Moscow, presented the of Japanese Business Club survey 2023. Both surveys showed a drop in confidence among business representatives in 2022 and a recovery in 2023.
Kunio Okada, General Secretary, Japanese Business Club, shared data on the number of Japanese companies and businessmen in Russia. Georgy Daneliya, Counsel, SEAMLESS Legal, spoke about how Japanese companies see the Russian market, what are the trends and dynamics among Japanese companies in Russia.
During the second session Andrey Zharskiy, Chair of AEB Finance and Investments Committee, Partner, ALRUD Law Firm, talked about foreign investors property issues (Presidential Decree on external management; federal law on property blocking; federal law on economically significant organizations), Vitaliy Zhigulin, Partner, Kesarev, updated on rules re dividends payments and government sub-commission work, and Nina Goulis, Chair of AEB Taxation Committee, Partner, Kept, briefed on recent tax incentives (DTA suspension, expansion of MinFin "blacklist", windfall tax).
The AEB thanks SEAMLESS LEGAL LIMITED (UAE) for sponsoring the event.