23.04.2015
On 22 April, 2015 the AEB held its Annual General Meeting.
Philippe Pegorier, Chairman of the AEB Board, Olga Bantsekina, First Deputy Chair, Joerg Bongartz, Deputy Chairman of the AEB Board and the AEB Treasurer, Michael Akim, AEB Board Member and Tobias Luepke, AEB Board Member reported on the different aspects of AEB's work in 2014. Frank Schauff, AEB CEO, presented an operational report.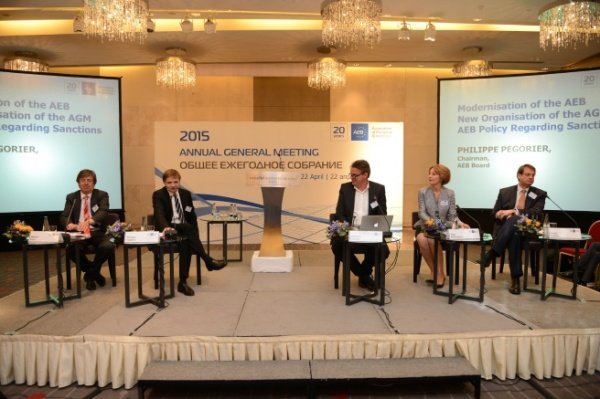 Aage V. Nielsen
, acting Chairman of the Council of National Representation (CNR), who chaired the AGM, made a welcome speech and informed the attendees about the work of the CNR.
The guests Alexey Mordashov, CEO, AO "Severstal Management", Vygaudas Ušackas, Head of the Delegation of the European Union to the Russian Federation, and Jean-Francois Cirelli, Senior Advisor for the GDF SUEZ Presidency to gas supplies addressed the AEB members on the current economic and political developments in Russia and the EU. 
Joerg Bongartz, Deputy Chairman of the AEB Board and the AEB Treasurer made a presentation of the Balance Sheet, the Financial Report and Annual Report 2014.
Gerard Uijtendaal, Acting Chairman of the AEB Auditing Commission (AC) presented AC's results. 
The AGM participants thanked Donald Scott, former CNR Chairman and Marco Koschier, former AC Chairman, for their long term contribution to AEB's success. 
At the end of the meeting the AEB members voted on the 2014 Annual Report, the 2014 Financial Report and the 2016 Budget. 
They also elected a new Auditing Commission member — René Pischel (European Space Agency) and confirmed the new composition of the CNR: 
AUSTRIA — Dietmar Fellner, Austrian Trade Commissioner
CZECH REPUBLIC — Jiri Sterba, BBH Legal LLC
CROATIA — Jakov Despot, Croatian Chamber of Economy, Representation to Russia
DENMARK — Aage V. Nielsen, Vitus Bering Management
ESTONIA — Meelis Milder, Baltika Group
FRANCE — David Lasfargue, Gide Loyrette Nouel
FINLAND — Jari Jumpponen, East Office of the Finnish Industries
IRELAND — Charles Mahon, PM Group
GERMANY — Michael Harms, AHK – German Russian Chamber of Commerce
GREECE — Stefanos Vafeidis, Coca Cola Hellenic Bottling Co. Eurasia
HUNGARY — Sandor Rethi, OTP Bank
ICELAND — Ingolfur Skulason, Kleros LLC
ITALY — Brenno Todero, Codest International S.r.l.
LITHUANIA — Julius Salenekas, Lithuanian Business Club in Moscow
MALTA — Patrick Catania, International Hotel Investments (Benelux) B.V. in St. Petersburg
MONTENEGRO — Luka Nikčević, Chamber of Economy of Montenegro in Moscow
NETHERLANDS — Lodewijk Schlingemann, Juralink Legal Consultancy
POLAND — Karolina Skrobotowicz, Polish Business Club
SERBIA — Sveta Vasiljevich, Representation of the Economic Chamber of Serbia in Russia
SLOVENIA — David Kokalj, Mediko Vital
SWEDEN — Frederik Svensson, Mannheimer Swartling
SWITZERLAND — Marco Mariotti, Philip Morris International
TURKEY — Ali Tunc CAN, Russian – Turkish Businessman Community
UK — Alan Thompson, Russo British Chamber of Commerce
The Annual General Meeting was followed by a well-attended AEB Grand Reception, an ideal platform for networking and cooperation.
Photo L-R: Michael Akim, AEB Board Member, Philippe Pegorier, Chairman of the AEB Board, Matthias Schepp (moderator), Der Spiegel, Moscow Bureau Chief, Olga Bantsekina, First Deputy Chair of the AEB Board,Tobias Luepke, AEB Board Member