25.04.2023
On April 25, 2023, one of the most important events in the life of the Association - the AEB Annual General Meeting – was held in Lotte Hotel Moscow.
The meeting was chaired by Marc Dellaert, Deputy Chairman of the Council of National Representation, who made a welcome speech. 
The AGM was addressed by keynote speakers – H.E. Roland Galharague, Ambassador of the European Union to the Russian Federation, and Sergey Krasilnikov, Vice President, Managing Director of the Russian Union of Industrialists and Entrepreneurs.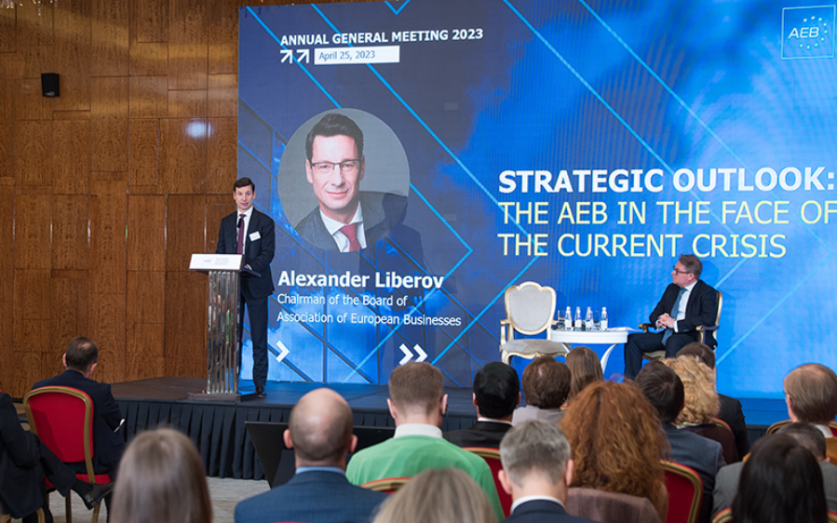 Alexander Liberov, Chairman of the Board of the Association of European Businesses, presented the AEB strategy for the current year and Tadzio Schillinig, AEB Chief Executive Officer, presented AEB business & annual reports for 2022 and financial plan for 2023. 
Marco Koschier, Member of the Auditing Commission of the Association of European Businesses, reported on AEB financial results in 2022. 
The members approved by the majority of votes all the items of the AGM agenda - confirmed the acting CNR and approved the financial plan for 2023. 
Tadzio Schillinig was re-elected as AEB CEO. 
AEB expresses its deep gratitude to speakers of the event and all member companies for the attention to the activities of the Association and active participation in the AGM.