22.10.2019
On 21 October, 2019, the AEB held its session within business program of Open Innovations 2019, entitled "Business Dialogue "Russia-Europe: European manufacturing and digital technologies for sustainable development".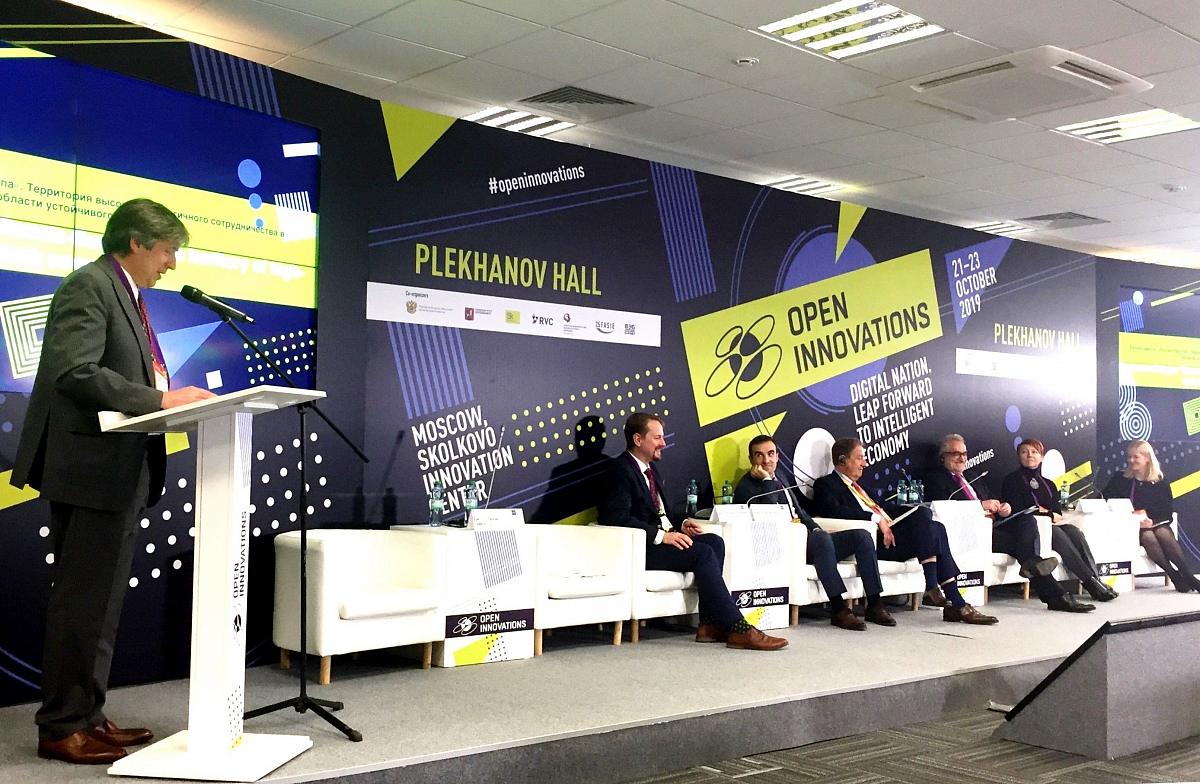 The session was moderated by Michael Akim, Chairman of the AEB Working Group on Modernisation and Innovations, Vice-President, ABB Russia. 
Europe is known as a global socially-responsible technology leader. To transform the economy and to generate new and sustainable competitive advantages, the European business is transitioning to a low-carbon, more resource-efficient, circular economy. Digital devices, namely sensors, transmitting, data collecting and computing power units could drastically help to optimize manufacturing processes for the sake of environment and to reduce impact on climate change.
The panelists to the session discussed  the prospects for promoting European technologies for sustainable development in Russia and how the sustainable development goals can be reached through cooperation between government and business, prospects for joint development of high technologies in the sphere of ecological transport, digital solutions in pharmaceutical production and the role of recycling in circular economy. 
Photo L-R: 
Michael Akim, Chairman of the AEB Working Group on Modernisation and Innovations, Vice-President, ABB Russia (Moderator)
Björn Kavalkov-Halvarsson, Counsellor, Head of Economic and Trade Department, Embassy of Sweden to the Russian Federation 
Vakhtang Partsvania, Head of Sustainability & GR, Scania RUS LLC
Christian Nardin, Senior Vice-President, High Growth Countries, EMEAR, Dassault Systems
Heinz Schmidt, Head of Merck Life Science Russia & CIS 
Ekaterina Radionova, General Manager, KUUSAKOSKI RECYCLING     
Marina Tatarskaya, Chairperson of the AEB PR & Communications Committee; PR Director, Ferrero Russia 
Presentation_Ekaterina Radionova, KUUSAKOSKI RECYCLING.pdf

View/Open
Presentation_Heinz Schmidt , Merck Life Science.pdf

View/Open
Presentation_Marina Tatarskaya.pdf

View/Open
Presentation_Michael Akim, ABB Russia.pdf

View/Open
Presentation_Vakhtang Partsvania, Scania RUS.pdf

View/Open