12.01.2023
On January 12, 2023, the AEB Automobile Manufacturers Committee held its annual press conference "OVERVIEW 2022". The conference took place in AEB conference center.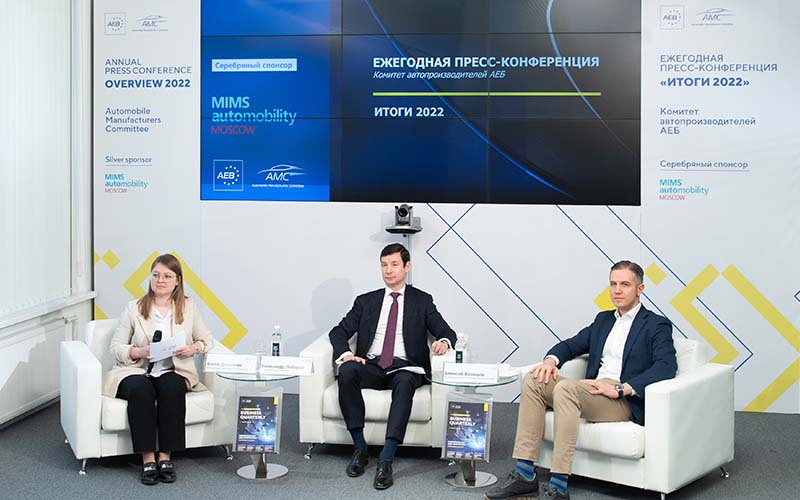 Dr. Alexander Liberov, Chairman of the AEB Board, welcomed the audience with the opening speech, noting that the AEB continues to be a platform that brings together the vast majority of automakers and importers operating in the Russian market.
Alexei Kalitsev
, Chairman of the AEB Automobile Manufacturers Committee, presented the 
results of car sales in 2022
, told about the key challenges the industry faced, and announced the car sales forecast for 2023. Separately, he noted the expanding geography of brands in 2022, the complete transformation of the market and consumer demand.
In 2022, the automotive market decreased by 58.8% compared to 2021, with a total of 687,370 vehicles sold. December 2022 was marked by a 50.2% decrease in sales compared to December 2021, 64,072 vehicles were sold.
During the Q&A session, Alexey Kalitsev and Olga Silnitskaya, Deputy Director General of the Association of European Businesses, answered numerous questions about the development of the automotive market in Russia and the activities of the Association.
The Association of European Businesses would like to thank the silver sponsor of the conference, the International Exhibition of Automotive Parts, Components, Car Maintenance Equipment and Products MIMS Automobility Moscow and the Moscow International Automotive Forum IMAF.