17.01.2018
On January 17, 2018, Herman Van Rompuy, President of the European Policy Centre, President Emeritus of the European Council and former Prime Minister of Belgium met with AEB Members during a business breakfast organised by AEB Sponsor company, Deloitte.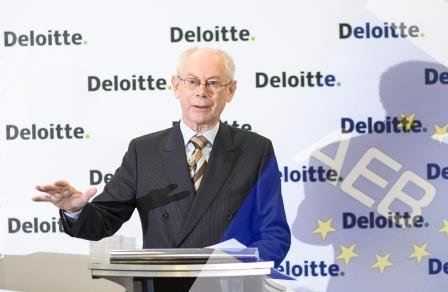 President Van Rompuy dedicated his briefing to the future of the European Union and of the EU-Russia relations. He strengthened the importance of the EU-Russia relationship in a globalized and multilateral world, replacing into perspective the role of Russia in the European history and its strategic place on the European continent. 
Mr. Van Rompuy noted that the EU-Russia relations were full of untapped opportunities and that trust between the two partners needs to be restored.
The discussion was moderated by Ian Colebourne, Managing Partner of Deloitte CIS.
AEB CEO Frank Schauff made some closing remarks, thanking Deloitte for this great opportunity to meet with the President Emeritus of the European Council.
Full photo report is available 
HERE