03.03.2020
On March 3, 2020, in the Ministry of Foreign Affairs of the Republic of Kazakhstan, Nur-Sultan, a round table of members of the AEB delegation and representatives of government agencies, national companies and public organizations was held.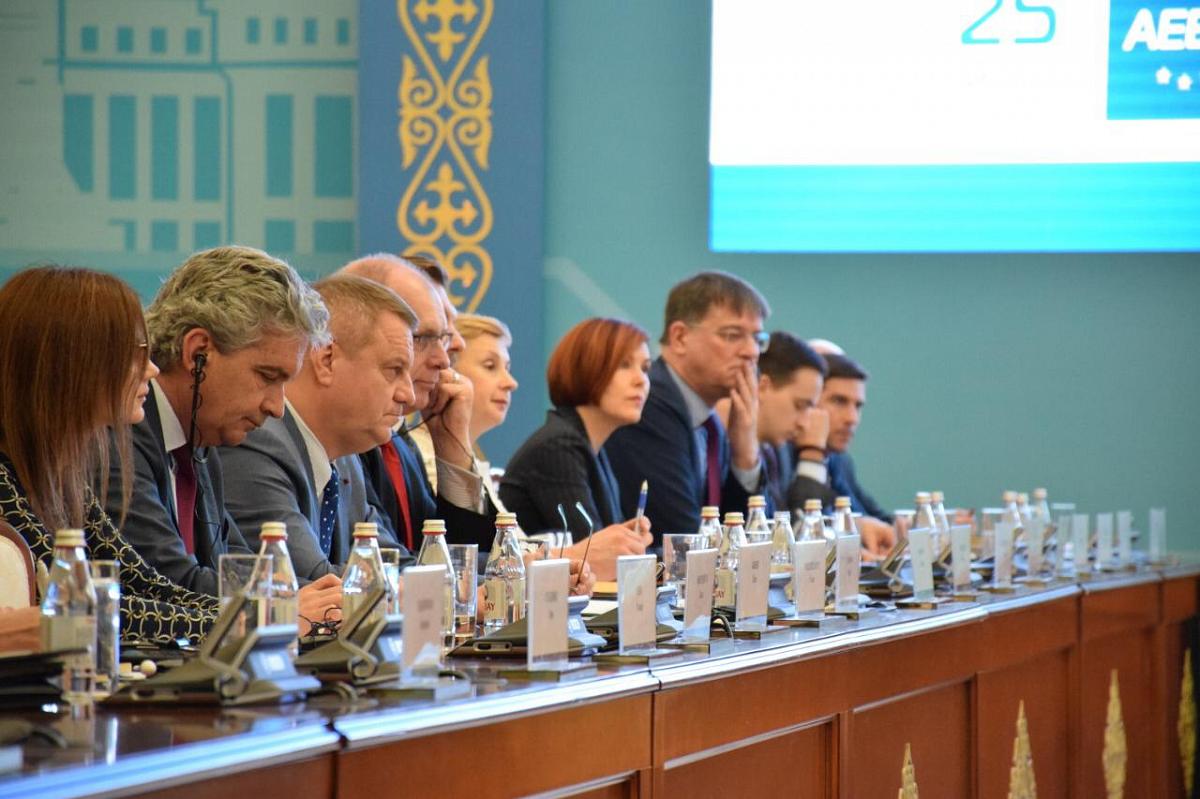 The purpose of the meeting was to present the investment potential of Kazakhstan, as well as to discuss specific steps in the development of cooperation and expansion of business contacts between Kazakhstan and European business.
Ambassador Extraordinary and Plenipotentiary of the Ministry of Foreign Affairs of Kazakhstan Yerlan Khairov delivered an opening speech, outlining the main directions of policies to attract foreign investment.
In his response, Johan Vanderplaetse, Chairman of the AEB Board, noted that "this business mission was a logical continuation of the presentation of the investment potential of Kazakhstan, which was supported by the Embassy of the Republic of Kazakhstan and the Trade Mission of Kazakhstan in Russia last June. Representatives of AEB European member companies were seriously interested in the opportunities that Kazakhstan is ready and able to offer in terms of business development and investments.
"We sincerely hope that the AEB business mission will lay a solid foundation for further business development of our member companies in the region, bring additional investments into Kazakhstan and help to establish new business contacts," added Johan Vanderplaetse.
AEB delegates were addressed by: Shaimerdan Akhmetov, Deputy Director of the Investment Policy Department of the Ministry of Agriculture of Kazakhstan, Timur Tilinin, Deputy Chairman of JSC "NC "Kazakh Invest", Nazira Baimuldinova, Director of the Investment Department of JSC "Kazgeologiya", Tauan Muhammadkali, Head of Business Relations, AIFC Business Connect Ltd., and others.
The discussion was moderated by Galym Uzbekov, Deputy Chairman of the Management Board of NC Kazakh Invest JSC.
At the end of the meeting, a bilateral Memorandum of Cooperation was signed between KAZAKH INVEST and AEB, confirming the intention of the parties to strengthen cooperation in order to improve the competitiveness of business in the Russian Federation and the Republic of Kazakhstan.
In the afternoon the heads of large European companies - participants of the business-mission, met with the Deputy Prime Minister of Kazakhstan Roman Sklyar.
During the meeting Roman Sklyar spoke about the favorable investment climate in the country and discussed the issues of providing investors with new opportunities in various sectors of the economy: tourism, digital economy, healthcare, infrastructure, etc.
AEB representatives, in turn, discussed opportunities to participate in government programs and initiatives to support the industry 4.0, green economy, sustainable development, electricity transport infrastructure in Kazakhstan, including through technology transfer and localization.
Another important event of the day was the presentation of regions and special economic zones of Kazakhstan, followed by a series of B2B and B2G meetings, during which representatives of business and local authorities were able to discuss concrete steps for further cooperation.
Main photo: delegates of the business mission on the AEB side