07.12.2017
On 6 December 2017, the AEB Insurance and Pensions Committee held a business meeting titled "Trends in employee benefits: corporate pensions, digital solutions and other benefits for personnel".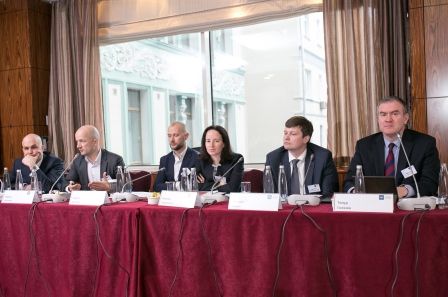 It was opened and moderated by Alexander Lorenz, AEB Insurance and Pensions Committee Chairman. 
The AEB kindly thanks SAFMAR NPF AO for its support. 
The event gave the audience an update on trends in the corporate pensions market, corporate pension programmes and solutions (structure, client's view, etc.), digital solutions, and other employee benefits and compensations. It also provided a platform for exchange of ideas and experiences.
Among the speakers were Evgeny Yakushev, SAFMAR NPF AO; Evgeny Kuskov, WELBI; Julia Piskulova, Chubb Insurance Company, LLC; Timur Gilyazov, MetLife JSC; Mikhail Kunin, Greco JLT. Insurance Brokers JSC; Natalia Parkhamovich, PwC; Andrey Kulapov, Marsh insurance brokers; and Tadzio Schilling, EY.