01.07.2021
On 1 July the III session of the Verona Eurasian Economic Forum titled "The New Reality of the Global Economy from Atlantic to Pacific Ocean: The Ural Dimension" has opened in Ekaterinburg.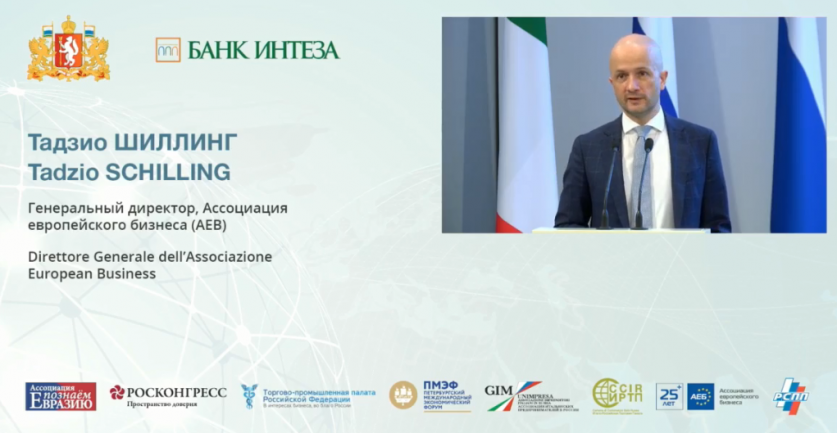 It is the first event of the business part of the INNOPROM-2021 exhibition. 
The event is attended by the Governor of the Sverdlovsk region Evgeny Kuyvashev, the Ambassador of the Italian Republic in Russia Pasquale Terracciano, Chairman of the Board of Directors of Bank Inteza, president of the association "Explore Eurasia" Antonio Fallico, as well as representatives of government agencies, business organizations and the business community in Russia and Italy.
In his speech during the opening session Tadzio Schilling briefly summarized the current state of economic relations between Russia and the EU which continue to develop despite some structural changes and a partial slowdown. He also stressed the importance of maintaining business and cultural contacts, their intensification despite political or epidemiological difficulties and, in the long run, the liberalization of visa issues.
In addition, as stated by the Director General of the AEB, "we expect a significant transformation of the economy in the direction of its "greening". It is noteworthy that even the pandemic failed to affect this process". According to the results of the research conducted by AEB jointly with Accenture and other associations, 98% of companies in Russia have already defined the ESG agenda as a priority. Clearly, the economy of the future is shifting to a greener path. Besides, cooperation in this field also has a great potential for development and improvement of relations between Russia and EU. Tadzio Schilling also mentioned the AEB Green Initiative and called the interested parties to join its work.
The further business program of the III Verona Eurasian Economic Forum includes an expert discussion "Business on the Road to Ecological and Digital Transformation", as well as a special session "Metallurgy and Engineering: Opportunities for International Cooperation and Ways to Restore Economic Growth".