23.01.2019
On January 23, 2019, Dr. Frank Schauff took part in the expert discussion, titled "Sanctions and the Oil and Gas Sector: Political Risks for Business", hosted by the Valdai Discussion Club.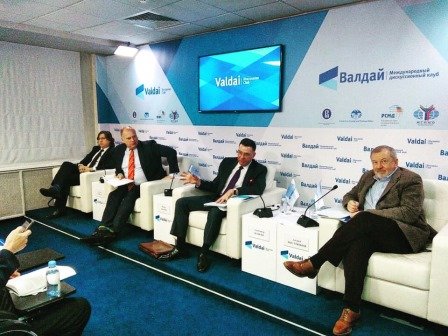 The discussion was moderated by Andrey Bystritskiy, Chairman of the Board of the Foundation for the Development and Support of the Valdai Discussion Club.
Among the speakers were Alexander Pankin, Deputy Foreign Minister of the Russian Federation and Alexei Grivach, Deputy Director General for Energy Projects at the National Energy Security Foundation (NESF).
The participants stressed, that the oil and gas sector is the main target for restrictive measures that can affect not only Russia but also European partners. Thus, the adoption of new sanctions against Russia could threaten the implementation of the Nord Stream-2 pipeline, in which Germany and other European countries are primarily interested. During the discussion, some prospects for the escalation of sanctions, their further impact on the Russian oil and gas sector, as well as possible ways of managing the risks of sanctions were considered.