12.11.2018
On November 12, 2018 AEB CEO Frank Schauff participated in Saint Petersburg Annual Investment Forum as a moderator of the plenary session.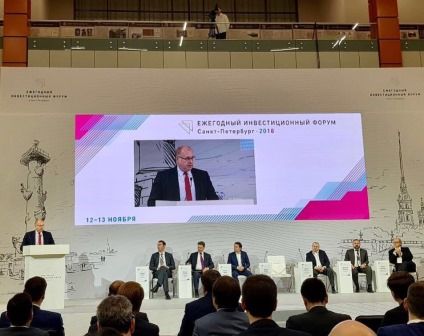 Among the participants of the session were: Alexander Beglov, acting Governor of St. Petersburg; Andrey Chibis, Russian Deputy Minister of Construction, Housing and Utilities; Maxim Sokolov, CEO of "LSR Group"; Zakhar Smushkin, Chairman of the Board of Directors of "Start Development"; Dmitry Morozov, CEO of Biocad; Andrey Kuzyaev, President of ER-Telecom Holding; and  Franz Jurkovich, Chairman and co-owner of Warimpex Finanz-Und Beteiligungs AG.
The plenary session was dedicated to the discussion of investment challenges for St. Petersburg as a global city. It started with the statement made by Dr. Schauff about the importance of St. Petersburg for foreign investors and the AEB activities in the region.