05.06.2018
On June 5, 2018, The Association of European Businesses (AEB) co-orginized the Forum "Construction equipment industry in transformation: drivers of success" in the frame of International exhibition for construction equipment & technologies bauma CTT RUSSIA 2018, located in Crocus Expo IEC, Moscow.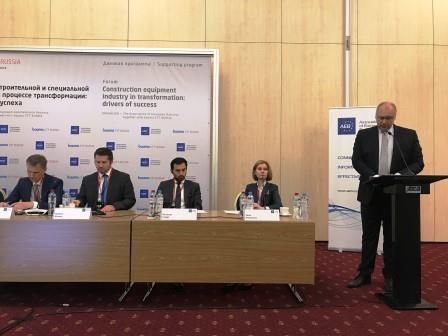 The Plenary session was moderated by Yana Arzhanova, Public Affairs Director, Volvo Group Russia.
Frank Schauff, AEB CEO, and Andreas Lettl, General Director,  CTT Expo made the opening remarks.
Riccardo Viaggi, Secretary General, СЕСЕ, and Andrey Komov, Chairman of the AEB construction equipment Committee, General Director, Volvo CE, made the overview of trends and tendencies of the construction equipment market in Russia and in Europe.
Yuri Bogovitsky, Deputy Head of Section of Monitoring and Analysis of the Development of Industrial Complexes of the Single Economic Space Member States, EEC Industrial Policy Department, reported on the opportunities and prospects for the development of construction machinery on the common market of the Eurasian economic Union.
During the Forum the key industry players discussed the development strategy of the special and construction equipment market. 
The governmental representatives told about the existing and upcoming measures to support the industry, the potential of high-tech exports and promising areas of innovative solutions.
Photo (L-R): Yuri Bogovitsky, Deputy Head of Section of Monitoring and Analysis of the Development of Industrial Complexes of the Single Economic Space Member States, EEC Industrial Policy Department; Andrey Komov, Chairman of the AEB construction equipment Committee, General Director, Volvo CE; Riccardo Viaggi, Secretary General, СЕСЕ; Yana Arzhanova, Public Affairs Director, Volvo Group Russia; Frank Schauff, AEB CEO
Renaissance Moscow Monarch Centre Hotel offer June-September 2018.pdf

View/Open