16.04.2018
On April 16, 2018, AEB and the Embassy of Lithuanian Republic organized an open meeting between AEB member companies operating in Russia and the Lithuanian transport and logistics companies, which will take place in the Embassy of the Lithuanian Republic.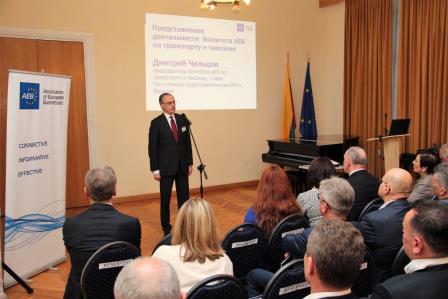 The Event was opened by welcome speeches of Mr. Remigijus Motuzas, HE Ambassador of the Republic of Lithuania in the Russian Federation, and Mr. Ruslan Kokarev, AEB Chief operating officer.
Dmitry Cheltsov, AEB Customs and Transport Committee Chairperson, General Delegate to the IRU Permanent Delegation to Eurasia, presented the activities of the Committee and highlighted that this meeting became a good tradition and provided a platform for discussion, and exchange of practical solutions in the field of transportation between AEB member companies and Lithuanian transport companies on the eve of International Forum "TransRussia-2018". 
Sergei Gusev, AEB Customs and Transport Committee Deputy Chairperson, GR and Technical Regulation Manager, Electrolux, made a presentation on "Current set-up of international transportation. Terms and conditions of cooperation with forwarders". 
The Event was follow-up by a session of questions & answers. 
It was agreed to follow a tradition and continue a dialog between transport companies of Lithuanian Republic and European business.