25.05.2022
On May 25, 2022, the annual AEB Conference "Intellectual Property: Development Trends, Judicial Practice, Problems and Solutions" was held.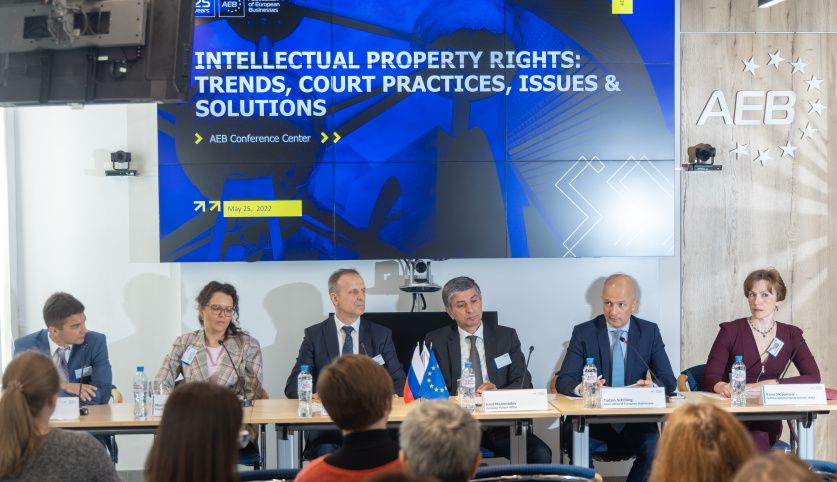 Maria Kolsdorf, Deputy Head of the Division of Judicial Practice and Statistics of the Court of Intellectual Rights, made a presentation on "Topical issues of the intellectual property legislation application practice 2021-2022". She told about the methods for calculating compensation, elaborated the features of the double cost of the goods and the double cost of the right to use. 
Andrey Solonovich, Deputy Director General, Federal Service for Intellectual Property, in his report presented the main changes in the legislation and law enforcement practice in the field of intellectual property. He also presented the initiatives under the Business Climate Transformation roadmap, aimed to improve the quality of public services. In particular, he noted the development of a system for the protection of regional brands and the accession of Russia to the Lisbon system for the international registration of geographical indications and appellations of origin of goods. 
Vice-President of the Eurasian Patent Office Emil Mammadov described the further development of the regional system of intellectual property protection. The formation of a common expert and information space in the Eurasian region, the principles of its functioning and the purpose of its creation became the key topics of his speech. 
Yana Sklyarova, Deputy Head of the Department for Control over Advertising and Unfair Competition, Federal Antimonopoly Service (FAS), told about topical issues of FAS practice in the field of intellectual property. 
The Conference was also attended by members of the AEB Committee on Intellectual Property - representatives of foreign companies: Irina Stepanova, Adviser on Intellectual Property and Technology Practice, Dentons, Maria Ostashenko, Pratner, Alrud, Alisa Mikheeva, Associate, CMS, Konstantin Panurovsky, Legal Director, Astra Zeneka, Alexander Korolenko, Deputy Director for Intellectual Property, Patent Attorney, Teva, and Anton Pchelkin, Intellectual Property Lawyer, Pepeliaev Group. 
The conference, traditionally, was opened by AEB CEO Tadzio Schilling. The moderator was Anton Bankovsky, Chairman of the AEB Committee on Intellectual Property, Partner, CMS.