06.09.2021
On September 6, 2021, the Association of European Businesses (AEB) represented by Johan Vanderplaetse, AEB Chairman of the Board, and the Europe-Uzbekistan Association for Economic Cooperation (EUROUZ), represented by Oybek Shaykhov, EUROUZ Secretary-General, signed the Memorandum of Cooperation, within the framework of the First hybrid-format EU-Uzbekistan Business Round table at the Embassy of the Republic of Uzbekistan in Belgium.
The event was attended by the Deputy Prime Minister - Minister of Investments and Foreign Trade of the Republic of Uzbekistan Sardor Umurzakov, the Director for Russia, Eastern partnership, Central Asia and OSCE; Deputy Managing Director for Europe and Central Asia at the European External Action Service – EEAS Luc Pierre Devigne, Ambassadors of Uzbekistan in the EU countries and other senior EU and Uzbek officials, as well as over 200 representatives of European businesses or various size, actively looking for opportunities or already working in Uzbekistan, most of whom have attended online.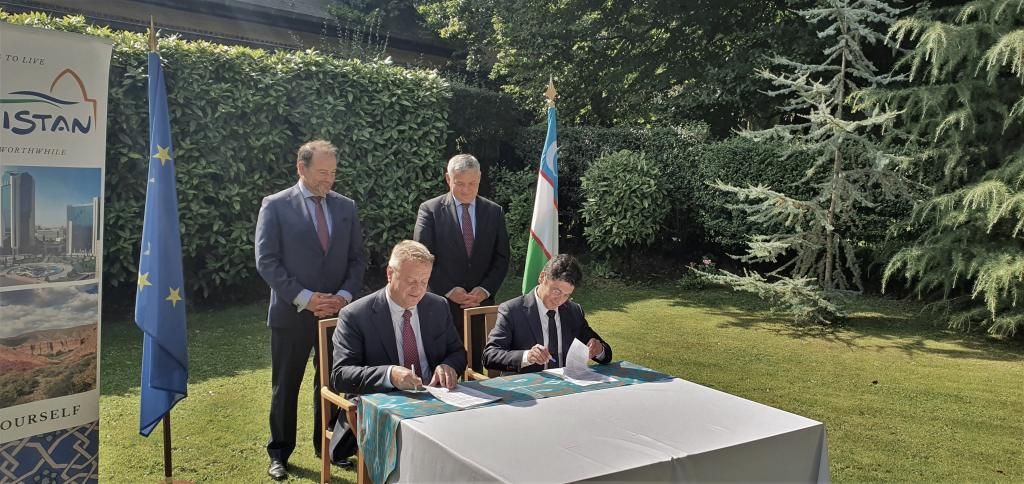 The signing of the memorandum between the two largest representative offices of European investors in Russia and Uzbekistan became a logical continuation of long-lasting efforts to improve the investment climate in the region  by consolidating efforts & establishing effective new mechanisms that support better cross-regional economic collaboration and create new opportunities for both European and local business communities.
The parties agreed to establish cooperation and expand interaction to increase the efficiency of trade, economic, scientific, and technical cooperation in the territory of the Republic of Uzbekistan, and to create favorable conditions for attracting and protecting foreign investors and implementing investment projects. 
AEB and EUROUZ also agreed that the main areas of cooperation would be the implementation of joint projects, initiatives, and specialized service offerings for foreign investors. 
AEB-EUROUZ MoU press-release RUS (06-09-21).pdf

View/Open
AEB-EUROUZ MoU press-release ENG (06-09-21).pdf

View/Open