22.09.2022
On September 22, 2022, the AEB held its annual flagship conference "At the Crossroads: Where Do We Stand? What to Expect from Tomorrow?". Russian and European business representatives, economists, and analysts discussed future economic scenarios and paradigms in the face of the current geopolitical turmoil.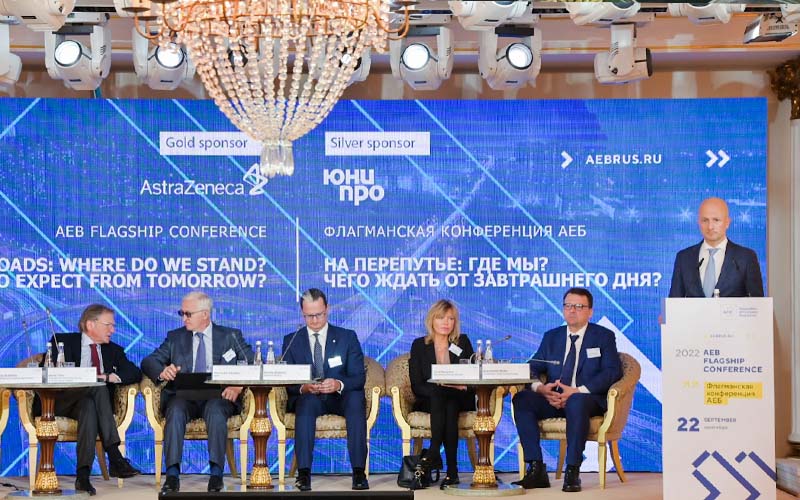 Opening the conference, Alexander Liberov, Chairman of the Board of AEB, noted the high importance of continuing active dialogue with the business, and thanked all participants of the event for the continued interest in the activities of AEB in such difficult times.
The first session was devoted to Russian economic policy in search of a new paradigm. The session was moderated by Tadzio Schilling, AEB CEO. The session participants discussed scenarios for Russia's economic development in the near future, taking into account the imposed external restrictions, future economic policy measures, tax initiatives and compensations for business. Alexander Shokhin, President, RSPP, Irina Panarina, General Director, AstraZeneca Russia/Eurasia, Boris Titov, Presidential Commissioner for Entrepreneurs' Rights, Alexey Mordashov, Chairman of the Board of Directors, PJSC "Severstal", Alexey Kashaev, President, General Director, Systeme Electric, Konstantin Binko, Deputy General Director, Consortium "Medical Technology" presented their views on the above mentioned issues. 
In the second session, moderated by Andreas Boeldt, Deputy Chairman of the AEB Energy Committee, Head of Representation, OMV Russia Upstream GmbH, energy issues were discussed. Marcel Salikhov, President, Principal Director of Economic Studies, Head of Economic Department, Institute for Energy & Finance Foundation,  Konstantin Simonov, General Director, National Energy Security Fund, Viktor Katona, Lead Analyst, KPLER, shared their views on the prospects for cooperation between Russia and the EU in the energy sector, the consequences of stopping Russian gas supplies to the EU, and the impact on the climate agenda.
The third session was no less interesting - it covered macroeconomic scenarios. The moderator of the session, Alexander Ivlev, Coordinator of Foreign Participants of the FIAC, noted the unpredictability of changes in the macroeconomics and the processes of restructuring the Russian economy. Presentations were made by Yaroslav Lisovolik, Program Director, Discussion Club "Valdai", Alexander Morozov, Director of the Research and Forecasting Department, Central Bank of Russia, Evgeny Nadorshin, Chief Economist, "PF Capital", Chris Weafer, Partner and Founder, Macro-Advisory.