14.03.2019
On March 14, 2019, the 15th Annual Customs Conference "CUSTOMS AND BUSINESS: from cooperation to partnership" was held at the Radisson Collection Hotel Moscow.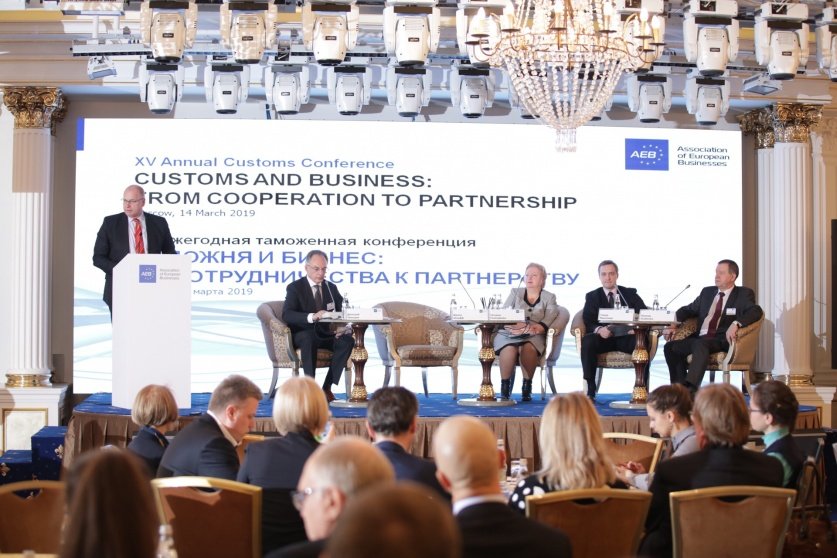 Like in previous years, the conference was dedicated to recent developments in the national and EAEU customs legislation, as well as the analysis of current law enforcement practices. A number of well-known and recognized experts shared their knowledge and experience, offering a starting point for discussion searching for rational and efficient solutions to existing challenges such as:
•
Customs value determination and administration,
•
Implementation of New Law on Customs Regulation,
•
Certification and labeling of imported goods and many other acute topics.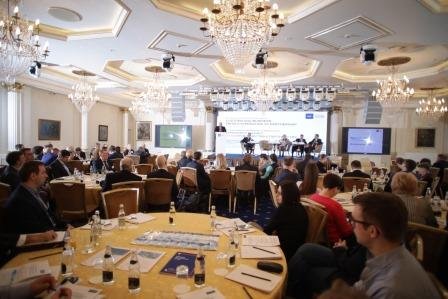 Dmitry Cheltsov, the Chairman of the AEB Customs and Transport Committee and Head of the Eurasian Representative Office of IRU, moderated the Plenary Session.
"We would like to express our gratitude to the Federal Customs Service of Russia for supporting the activities and initiatives of the AEB. We appreciate the dynamic movement along the path of creating an atmosphere of trust and creating a conflict-free business environment. Today, the Public and Expert Advisory Councils under the Federal Customs Service of Russia are becoming effective platforms for constructive dialogue, discussion of issues and proposals of business circles. The current level of interaction between customs and bona fide participants in foreign economic activity is reflected in the title and the substantive part of our conference: "CUSTOMS AND BUSINESS: FROM COOPERATION TO PARTNERSHIP", - said Dmitry Cheltsov.
In his welcome speech Frank Schauff, CEO of the Association of European Businesses, noted that the AEB supports the initiatives of the Federal Customs Service aimed at reducing the administrative burden of businesses and lifting trade barriers.
"We consider important the transition to the maximum automation of customs operations, as well as the accelerated development of electronic technologies that provide new opportunities for remote interaction between traders and customs authorities", - added Frank Schauff.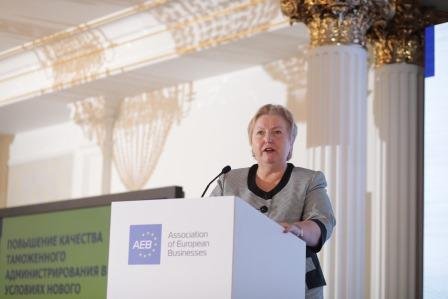 Tatyana Golendeeva, Deputy Head of the Federal Customs Service, stated that "today the Federal Customs Service of Russia implements the reforms that had been, among others, initiated in cooperation with the business community. We are doing our work on the principles of openness and objectivity, which is facilitated by digitizing processes. We believe that further automation of customs interaction with verified persons directly depends on the organization of the oncoming movement of all participants in the process."
The representatives of the Federal Customs Service and the AEB underscored the efforts of the Federal Customs Service and foreign trade participants aimed at creating favorable conditions for foreign trade and its sustainable development.
Presentations of the participants are available 
HERE
More photos are available 
HERE
Менеджер по развитию членской базы.pdf

View/Open