11.12.2018
On December 10, 2018, the AEB held a dinner for new members of the Honorary Council and Former Committee Chairs at Chicago Grill Restaurant.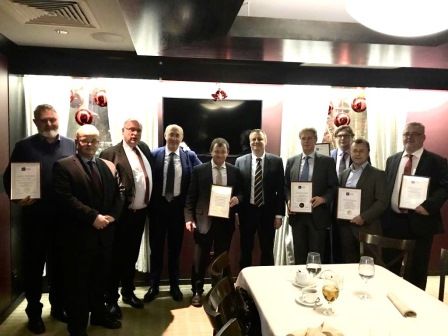 During the meeting, the Chairman of the Board Johan Vanderplaetse and CEO Frank Schauff awarded the new members of the AEB Honorary Council and former Chairs with respective diplomas.
Among the participants of the dinner were: Cesare Biggiogera (Former Board member); Gerald Sakuler (Former Board member, Deputy Board Chair, Board Treasurer),  Andrey Chursin (Former Commercial Vehicles Committee Chair); Michael Germershausen (Former HR Committee Chair); Sergey Ivanov (Former Leasing Sub Committee Chair); Sergey Kiselev (Former Tobacco Products WG Chair); Alexandr Kozhukhov (Former Legal Committee Chair): Johan Vanderplaetse, Chairman of the Board, Frank Schauff, CEO, Ruslan Kokarev, COO.
Photo (L-R): Sergey Ivanov, Ruslan Kokarev, Frank Schauff, Cesare Biggiogera, Michael Germershausen, Johan Vanderplaetse, Sergey Kiselev, Alexandr Kozhukhov, Andrey Chursin, Gerald Sakuler