16.04.2018
On 13 April 2018 the AEB Compliance and Ethics Committee, Human Resources Committee and IT & Telecom Committee held  a joint meeting entitled "New EU General Data Protection Regulation and its adaptation to local realities". The meeting provided a platform for the discussion of possible impact of the EU General Data Protection Regulation (GDPR), which was adopted in 2016 and will be coming into force on 25 May 2018.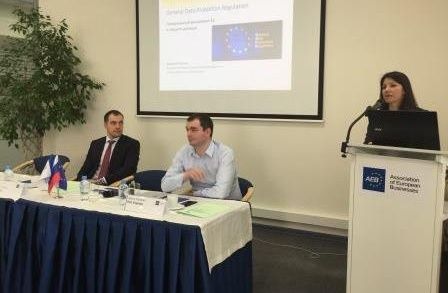 Alexey Muntyan (Personal Data Protection & IT Security Officer, DHL Express)  highlighted in his presentation the following topics: what is GDPR, GDPR as a part of European law reform – Digital Single market, GDPR's application field communicated by ISACA and Roskomnadzor, GDPR's mechanisms to pay special attention, guidelines for SMEs on the security of personal data processing by ENISA.
The presentation delivered by Dmitry Litvinov (Head of Analytics & Technology Center of Excellence, SAP CIS) was focused on the following issues: GDPR challenges and opportunities to become a better digital business and demonstration its accountability, possibilities within process automatisation towards more agile digital business, SAP help to address GDPR's requirements data management to simplify governance, opportunity to reduce compliance cost and risk through automation.
The GDPR implementation impact from the labor law perspective was presented by the meeting's moderator Julia Borozdna (Deputy Chairperson of the AEB Labour Law Sub-Committee, Partner, Head of Employment and Migration Law Practice, Pepeliaev Group), namely in the spheres of personnel recruitment, business trips of EU employees to Russia, RF employees' trainings in EU and v. v. including online trainings, employees and family members' insurance, sufficiency of the employee's agreement as the basis for personal data processing, bases for personal data protection.
Photo: L-R: 
Dmitry Litvinov, Head of Analytics & Technology Center of Excellence, SAP CIS
Alexey Muntyan, Personal Data Protection & IT Security Officer, DHL Express
Julia Borozdna, Deputy Chairperson of the AEB Labour Law Sub-Committee, Partner, Head of Employment and Migration Law Practice, Pepeliaev Group