Stanislav Murashov, Economist for Russia, Raiffeisen Bank Russia shared an analysis of the current economic and financial situation in Russia, trends, and forecasts for 2021. 
In brief, according to Raiffeisen Bank Russia, economic results of Russia in 2020 look more optimistic than anticipated before even despite a "second wave". GDP declined by only 3.1% yoy. In 2021 the Russian economy will be recovering (GDP +2.3% yoy). Federal budget deficit will persist in 2021- 2022. In 2021, expenditure will be higher than it is implied by the budget rule. The stimulative fiscal policy is one of the key economic growth factors (especially for investment). In 2021, the Government will execute the main part of the National plan for economic recovery and continue with national projects. If the oil price remains at USD~55 per bbl for the next 12M, the equilibrium USD/RUB rate is 68. The current USD/RUB implies a significant premium (10-15%) for the risk of new tough sanctions against Russia.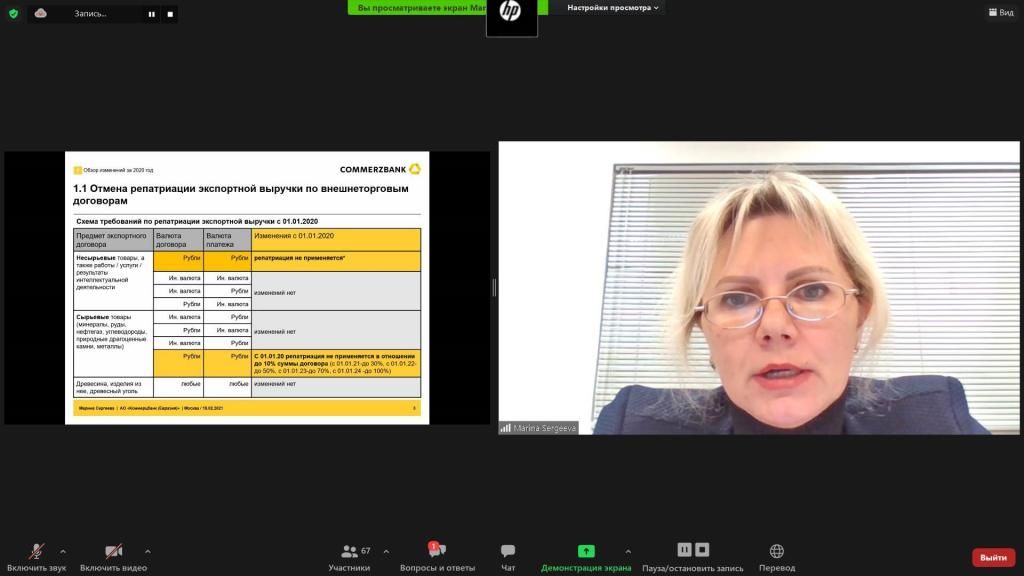 Further, Marina Sergeeva, Head of Сurrency Сontrol Department, Commerzbank (Eurasija) AO, made a brief review of the changes in currency control for 2020-2021.