14.12.2017
On December 13, 2017 the AEB participated in the international conference "Waste management: financing, organization – international experience" in the framework of the II Forum-exhibition ECOTECH'17.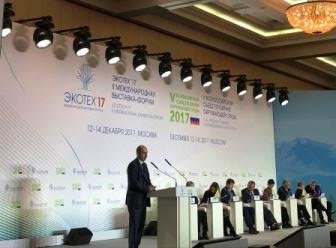 Alexej Soldatow, AEB Product Conformity Assessment Committee Chairperson, OOO "BSH Bytowije Pribory", Branch "BSH Bytowaja Technika", made a presentation on differences in regulation regarding extended responsibility of home appliances producers. 
Mikhail Divovich, AEB Environmental Sub-Committee Chairman, Ecoteam, Andrey Kossov, AEB Autocomponents Committee Chairman, Johnson Matthey, Olga Silnitskaya, AEB Committee Coordinator, and Maya Limonnikova, AEB Legal Advisor, also took part in the event.