15.06.2018
On June 13th, 2018, the member-companies of the AEB Southern regional Committee took part in the round table "Crosscultural communication in business" at the Kuban state University.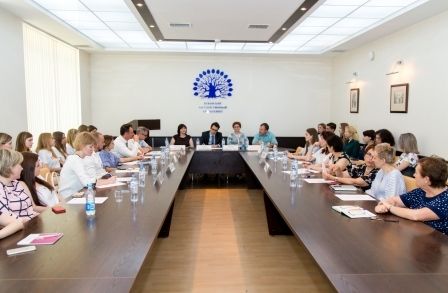 The round table was organized within the EU Erasmus+  grant "European integration through language and culture", supported by the German Philology Department of the Kuban state University.
The round table was organized by the faculty of Roman-German Philology, Department of international relations of the Kuban state University and the faculty of  Economics. 
One of the most important tasks facing universities is the correspondence of graduates' competences with the requirements of the potential employers. 
Representatives of the Kuban state University, administration of Krasnodar, as well as companies Claas, Cargill, Knauf, Gubskiy brick factory discussed the need and opportunities for the development of students crosscultural competence and for deepening the crosscultural aspect in the learning process.
Michael Ritter, General Director of "CLAAS" shared with the participants of the round table his personal experience in the field of crosscultural communication.
Igor Brener, Client HR Manager CASC EMEA Russia&Ukraine Cargill, Deputy Chairperson of the AEB Southern Regional Committee and Chairperson of the HR Sub-Committee of the AEB Southern Regional Committee, told about the Business schools project that successfully have been implemented with the support of the  AEB Southern regional Committee member companies  for four years already. It  aims, in particular, at the preparing of competitive and competent professionals taking into account the views of potential employers.
The lively discussion of the round table participants confirmed the importance of the development of students' crosscultural competencies and made the foundation for deepening cooperation in this area between the Kuban State University and business.
Brother eng.pdf

View/Open
Brother rus.pdf

View/Open