14.10.2016
On 14 October 2016, the international business conference InRussia-2016 took place in Moscow at Swissotel Krasnye Kholmy.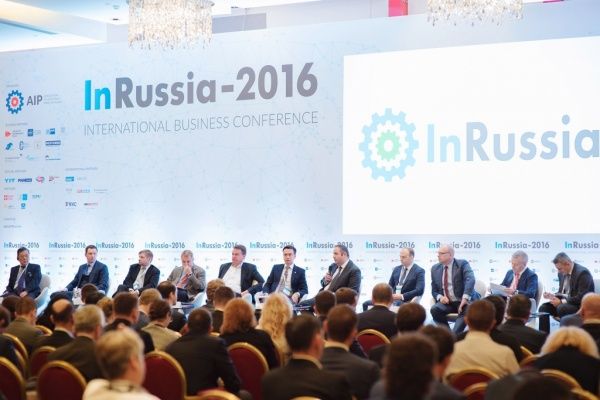 The Association of European Businesses is regularly a partner of the conference. Frank Schauff, AEB CEO, made a welcoming speech at the conference opening.
During the plenary session the AEB was also represented by Philippe Pegorier, Member of the AEB Board, Chairman of the AEB Machine Building & Engineering Committee, President, Alstom Russia.
Among 350 delegates there were representatives from 50 regions of Russia and 18 countries, including Japan, Belgium, Italy, Turkey, France, Germany, Singapore, Romania, Slovenia and others.
The Russians were represented by Georgy Kalamanov, Deputy Minister of Industry and Trade, Igor Koval, Head of the Department of Investment Policy of the Ministry of Economic Development of the Russian Federation, Administration of the Fund of Industrial Development, Technological Development Agency, "Business of Russia", heads of regional development corporations, industrial parks, and also largest service and production companies.
Frank Schauff focused on the issues of parallel importation and other related questions.
More news and photos can be found on the website of the association of industrial parks of Russia – AIP (organiser of the conference): http://www.indparks.ru/.