22.10.2018
On 19 October 2018, the AEB representatives: Dr. Alina Lavrentieva, Taxation Committee Chair; Vadim Zaripov, Taxation Committee Deputy Chair and Olga Silnitskaya, Committees Coordinator, took part in the set-up meeting of Federal Tax Service's Foreign Investors Advisory Council.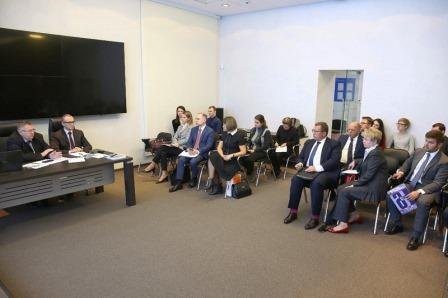 The Council has been established under the order of Mikhail Mishustin, Head of FTS, and comprises the representatives of major business associations standing for foreign investors operating on the Russian market. 
The meeting was chaired by Alexey Overchuk, Deputy Head of FTS and Dmitry Volvach, Head of International Cooperation and Currency Control Department of FTS. 
As agreed at the meeting, FTS is expecting members of the Council to provide key taxation issues that will be put on the radar of Council's agenda. The AEB Taxation Committee will work on the request and inform AEB members on any further developments.
Photo: participants of the Federal Tax Service's Foreign Investors Advisory Council set-up meeting
Preliminary program Intersec Forum Russia2210.pdf

View/Open
Предварительная программа Intersec Forum Russia_2210.pdf

View/Open
вакансия.pdf

View/Open