26.01.2017
On 26 January, 2017, the Association of European Businesses held its Strategy Meeting 2017, where Board members, CNR representatives, the Committee Chairmen, guests of honour, the AEB CEO and the staff met at the AEB premises to discuss theresults of 2016 and define the committees' main targets and initiatives for 2017.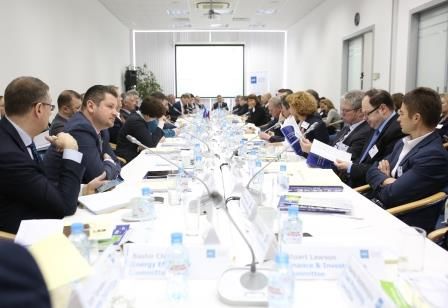 Chairman of AEB Board Thomas Staertzel made a review of the AEB Strategic Development and perspectives for the future.Sven-Olov Carlsson, Deputy Head of the EU-Delegation to Russia, Alexander Liberov, First Deputy Chairman of the AEB Board, Philippe Pegorier, Chairman of the AEB Machine Building and Engineering Committee and Filippo Baldisserotto, Chairman of the AEB Real Estate Committee also participated in the podium discussion.
AEB CEO Frank Schauff made short Introductory remarks on the Eurasian Economic Union. Stuart Lawson, Chairman of the AEB Finance and Investments Committee delivered short Introductory remarks on Russia's WTO membership.
Cesare Biggiogera, Member of AEB Board, presented AEB Communication Strategy and Gerald Sakuler, AEB Treasurer spoke about AEB financial stability in challenging times.
Olga Bantsekina, Deputy Chair of AEB Board summarised the discussion results.