22.10.2015
On 21 October 2015, the AEB held a briefing with Gabriel Di Bella, Resident Representative of the International Monetary Fund in the Russian Federation, titled "Russia: Recent Economic Developments & Challenges".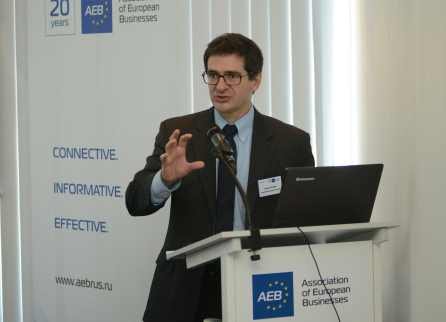 This event marks a most welcome and longstanding six-year tradition. Joerg Bongartz, Chairman of the AEB Banking Committee, Chairman of the Deutsche Bank Board, and Stuart Lawson, Chairman of the AEB Finance & Investments Committee, Executive Director, EY, moderated the event and assisted Mr. di Bella in delivering his briefing to the attendees. The IMF Resident Representative in Russia talked about the shocks affecting Russia's economy and policy reaction: monetary and fiscal policy responses, the current economic situation, the impact on the region, medium-term challenges, risks and mitigating factors.
The briefing was followed by a questions-and-answers session.


The presentation can be downloaded HERE.
The photoreport can be found on the AEB Facebook page.