29.06.2017
28 – 30 June 2017 Krasnodar hosted the XIV Conference of partner cities of Russia and Germany "Establishing contacts – initiating projects – building trust: impulses for the development of German-Russian relations".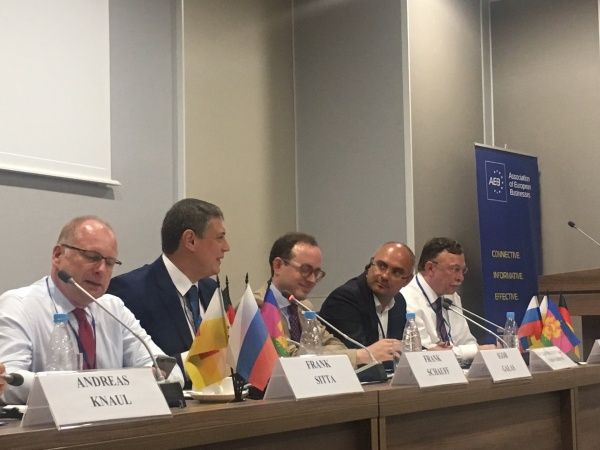 On 28 June Sergey Lavrov, Minister of Foreign Affairs of the Russian Federation, Sigmar Gabriel, Federal Minister for Foreign Affairs of Germany, Veniamin Kondratiev, Head of administration (Governor) of Krasnodar region, Evgeny Pervyshov, Head of Krasnodar opened the conference. 
The total number of participants was about 700 people.
On 29 June Frank Schauff, AEB CEO and Dietrich Moeller,  President of Siemens Russia and Central Asia participated in the section "Russian-German cooperation: crisis or new growth prospects". 
The Association of European Businesses supported the section "Economy: Russia and Germany – building the future together". 
Oleg Zharko, Chairman of the AEB  Southern regional Committee, Corporate Affairs Director Center South Region of the Group of companies Danone in Russia moderated the section "German business in Russia: successes and prospects for development". Among the speakers were Sergey Altukhov, Deputy head of administration (Governor) of Krasnodar region, Ralf Bendish, General Director of OOO "CLAAS", the honorary Consul of the Federal Republic of Germany in Krasnodar, the authorized representative of the Russian-German chamber of Commerce in the Southern Federal district, Oleg Shingiriy, General Director of OOO "Knauf GIPS Kuban".