23.04.2013
On April 22, 2013 the AEB Construction Equipment Committee held an Open Event "Construction Equipment Industry in Russia: Prospects and Developments in the Current Economic Realities", which took place at Swissotel Krasnye Holmy. 
Participants of the event included foreign and Russian construction equipment manufacturers, Russian mineral and chemical, construction equipment and builders associations, the Head of Automobile and Agricultural Engineering Department of the Ministry of Industry and Trade Timur Mikaya, as well as the press. 
The event focused on topical issues of the industry: market overview, its investment attractiveness and latest legislative changes. The participants had an opportunity to learn about activities of the Committee in 2012, its statistics programme and discuss localization experience and impact of introduction of the disposal fee on producers and consumers of the construction equipment.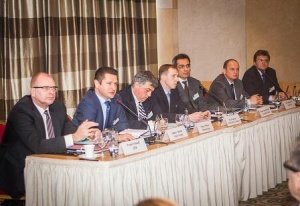 CEC presentation at open event 22 April 2013 FINAL for website.pdf

View/Open