21.06.2022
On June 21, 2022, the Association of European Businesses held its second Crisis and Sanctions Update Conference "Handling the Unpredictable & Staying Resilient". 
The conference gave the participants the opportunity to receive the most up-to-date information on all practical challenges faced by businesses in the current crisis situation.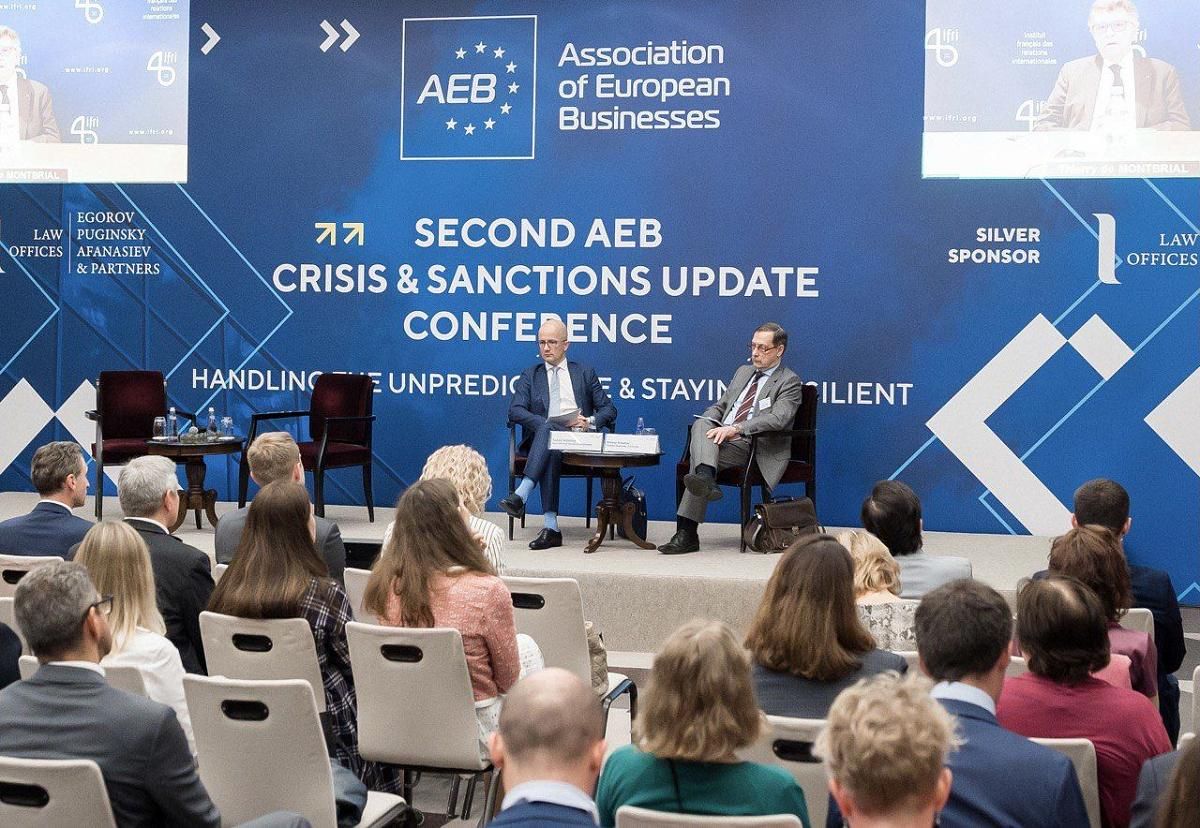 The first session, moderated by Tadzio Schilling, AEB CEO, was dedicated to the discussion of the current geopolitical situation and scenarios of possible geopolitical developments. 
Experts in international security and geopolitical strategy - Alexey Arbatov, Нead of the Center for International Security, Primakov National, Research Institute of World Economy and International Relations, Academician, RAS and Thierry De Montbrial, Executive Chairman, IFRI, Member of the "Institute of France" presented views to the geopolitical situation from Russian and European sides. The experts drew the historical parallels and shared their views on reasons and objectives of the conflict, as well as prospects for the restoration of relations, estimated how long the conflict could last. 
The second session, moderated by Wilhelmina Shavshina, AEB Customs & Transport Committee Chairperson, Partner, Global Trade and Customs CIS Leader, B1, navigated the participants through the 6th package of EU sanctions, its consequences for logistic, trade and banking spheres. 
Alexey Misailov, Sales and Marketing Director, FM Logistic Russia talked about the current situation at the borders, possible logistic routes and changes in tariffs.
Sergey Vasiliev, Chairperson of the AEB North-Western Regional Committee's Customs, Transport & Logistics Subcommittee, Legal Director, Head of Foreign Trade and Customs Practice, Denuo gave a systematic review of the current restrictions in foreign trade and support measures in EAEU. 
Vladimir Efremov, Partner, Baker McKenzie, emphasized the impact of sanctions on the banking system. 
The speakers of the third session, moderated by Anton Bankovskiy, Chairperson of the AEB Intellectual Property Committee, Partner, SEAMLESS Legal, discussed Russian countermeasures and their implications. 
Alexander Anichkin, Partner, Better Chance, spoke about the most topical Russian legislative initiatives - law on criminalizing compliance with sanctions, law on external administration. 
Sergey Kalinin, Partner, Head of Tax Practice, Egorov Puginsky Afanasiev & Partners, gave the details of capital control law and recent changes in securities transactions. 
Ilya Titov, Associate, ADVANT Beiten, presenting the overview of Russian countermeasures spoke about parallel imports, intellectual property rights and related risks.