28.04.2022
On April 27, 2022, the Association of European Businesses held the offline Crisis and Sanctions Update Conference "NAVIGATING INCREASED UNCERTAINTY" which took place at Start Hub in Red October. The invited speakers shared insights and trends in various spheres aimed to navigate businesses in the current crisis situation.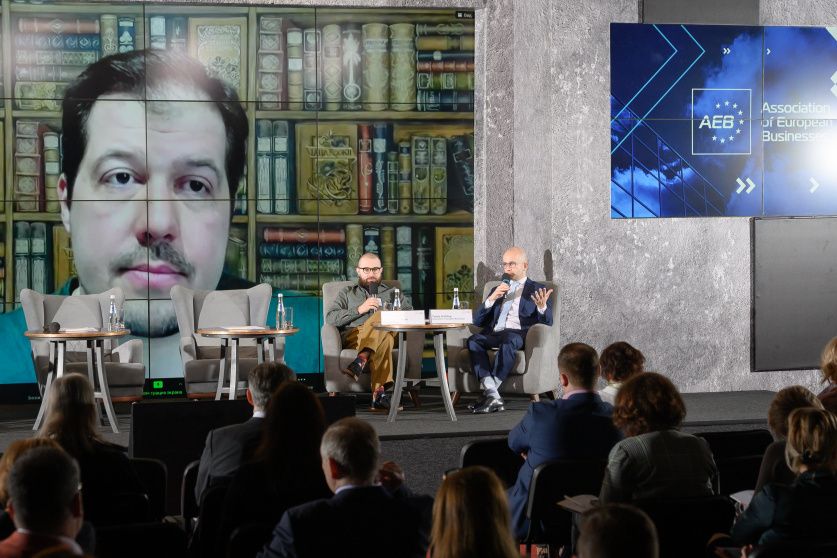 The first session, moderated by Tadzio Schilling, AEB CEO, was dedicated to Russian macroeconomic outlook. 
Evgeny Nadorshin, Chief Economist, PF Capital, and Stanislav Murashov, Director, Macroeconomic Analytics, Raiffeisenbank, described the scale and effect of implemented sanctions and countermeasures on the economy. They also presented their prospects for the development of economy, outlook for investments, import, inflation and key rate.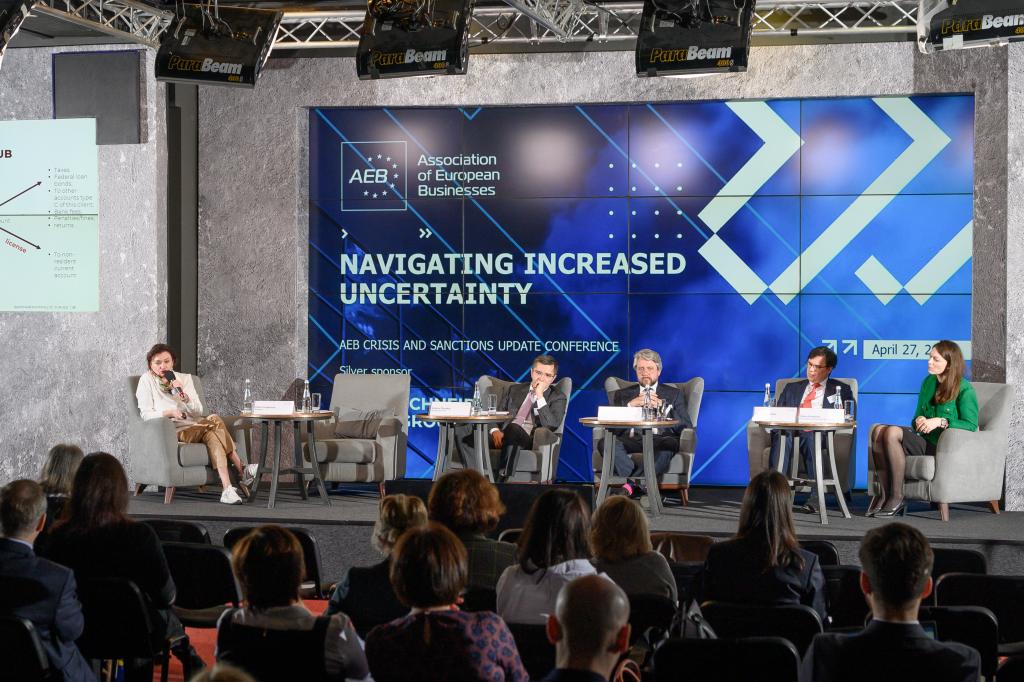 In the second session Vladimir Efremov, Partner, Baker McKenzie, and Sergey Yuryev, partner, Head of Dispute Resolution, CMS International B.V., told about the nuances of interpretation of sanction measures and gave an overview of Russian countermeasures intended to mitigate the impact of western sanctions. 
Andrey Zharskiy, Partner, ALRUD Law Firm, and Elena Finogenova, Head of Operations Department, Rosbank, talking about currency control focused on practical issues of payments with non-residents, restrictions in foreign trade, etc.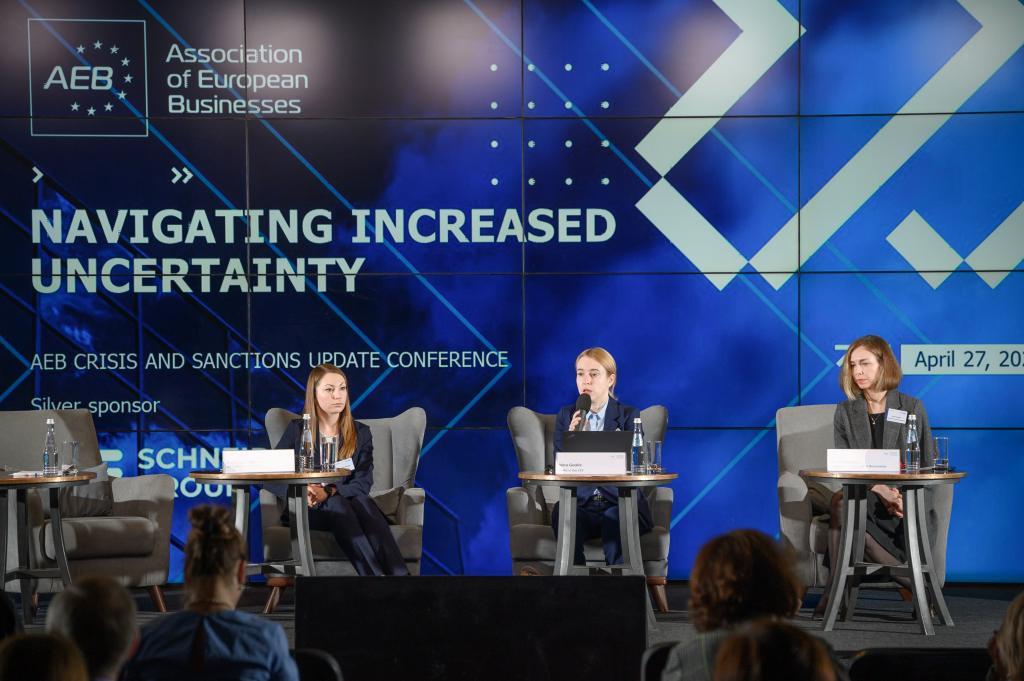 Speakers of the third session Evgeniya Sinanova, Head of Commercial Law Practice, Schneider Group, and Nina Goulis, Partner, Corporate tax, KPMG in the CIS, provided an overview of government support measures, including import promotion facilities, reduction of administrative burden, and anti-crisis taxation measures.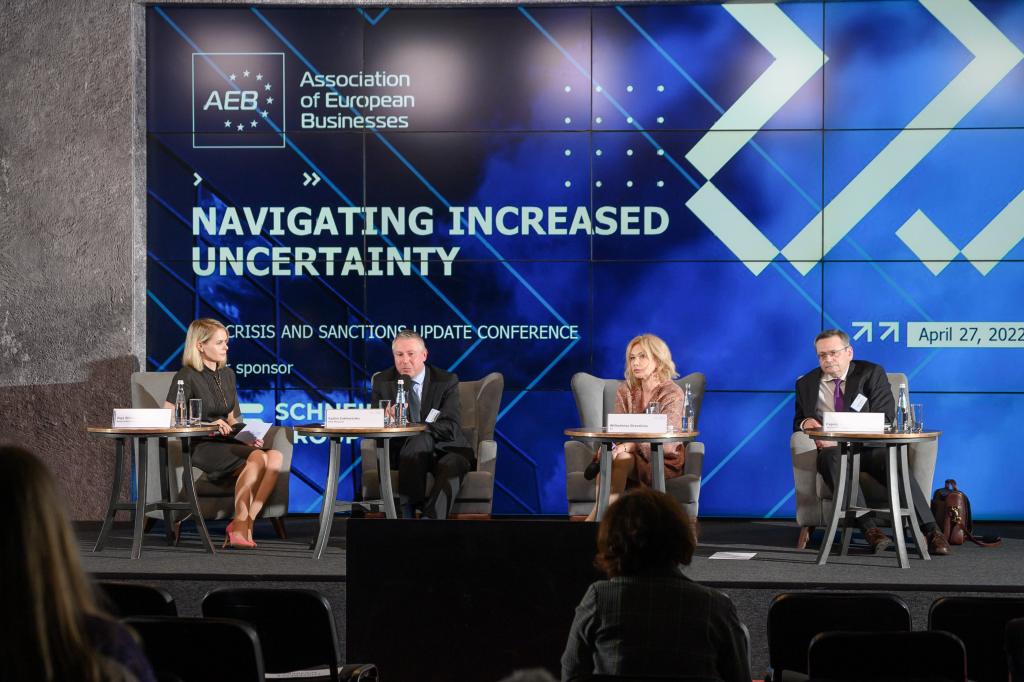 The final session was focused on sectoral issues, in particular, legal aspects of crisis communications, export and import restrictions, situation in the field of logistics, customs, labor law and migration legislation. The speakers were Ivan Berdinskikh, Director of Legal Support and Compliance, Manpower, Wilhelmina Shavshina, AEB Customs & Transport Committee Chair/EY, Vadim Zakharenko, General Delegate to the Permanent Delegation to Eurasia, IRU Moscow, and Evgeny Reyzman, Counsel, Baker McKenzie.
AEB cordially thanks the speakers, participants and SCHNEIDER GROUP, sponsor of the event, for their support!