21.12.2018
On December 20-21, 2018, AEB organized an official visit to Germany for a delegation of the Eurasian Economic Commission (EEC), headed by Mukai Kadyrkulov, EEC Minister for Customs Cooperation, in order to share the best European practices in the field of customs regulation, namely, customs control, simplify customs procedures, the benefits of the status of authorized economic operator exemplified by Porsche AG.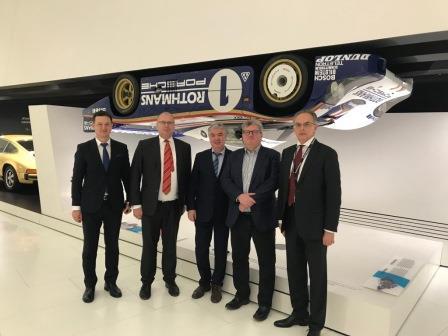 On December 20
, the EEC and AEB delegations visited Porsche's main plant for producing sports car models in Stuttgart-Zuffenhausen, and the automated spare parts warehouse for Porsche Logistics GbmH, in order to learn more about the production process and customs clearance for the company's products, as well as the benefits provided by its status as an authorized economic operator.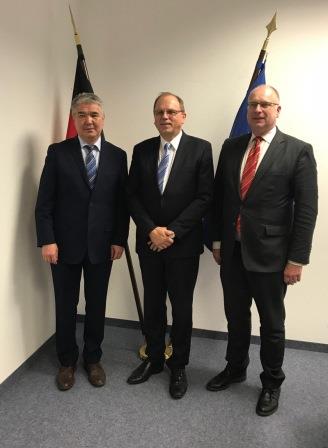 In addition, on December 21, AEB organized a meeting with Mukai Kadyrkulov, the EEC Minister, with Hans Josef Haas, Vice President of the German Customs Service to discuss topical issues of customs administration and learn about European practices in the customs regulation field.

During the meeting, Mukai Kadyrkulov shared information with colleagues about the Eurasian Economic Union, besides to some aspects of customs regulation and administration in the EEU. He noted that the draft Customs Code of the Eurasian Economic Union was prepared with active participation by business community representatives, including experts from AEB.
More information about the visit 
HERE
Photo (L-R): Sergei Mozer, Deputy Head of Division of Advanced Customs Technologies, Department of Customs Legislation, EEC; Dr. Frank Schauff, AEB CEO; Mukai Kadyrkulov, EEC Minister for Customs Cooperation, Dr. Thomas Staertzel, Deputy Chairman of the AEB Board, Managing Director/CEO, Porsche Russland; Dmitry Cheltsov, Chairman of the AEB Customs and Transport Committee, General Delegate to the IRU Permanent Delegation to Eurasia
Информация по итогам визита в Германию (2).pdf

View/Open
Информация по итогам визита в Германию(en).pdf

View/Open