31.05.2016
On 31 May 2016, HR & Migration Subcommittee of the AEB North-Western Regional Committee (NWRC) held a round table on "Dialogue between European business and education in the North-Western Region: expectations, opportunities and potential cooperation".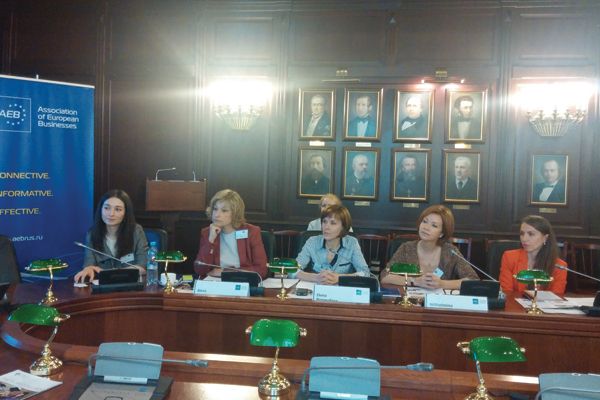 The participants were welcomed by Elena Novoselova, Chairperson of the HR & Migration Subcommittee.
The event aimed at bringing together the representatives of European companies and those of St. Petersburg State University (SPSU) to discuss the existing needs, programmes with high-grade students and graduates, requirements to professional qualification and skills necessary for young specialists who are applying to the companies.
Ekaterina Babelyuk, First Deputy Rector of SPSU for academic, extracurricular and educational-methodical work, presented SPSU programmes for inclusion of the professional community in the evaluation and improvement of the quality of education to meet the needs of companies.
30 representatives from AEB member companies including Drees & Sommer, DLA Piper, Baker & McKenzie, Allianz IC OJSC, Coleman Services UK Ltd., ManpowerGroup Russia & CIS, were able to present, discuss and exchange practical experience, concerns and proposals with SPSU representatives and each other.
The event took place at the premises of the Legal Faculty of St. Petersburg State University.
The presentation is avaiable HERE.
L–R: Fatima Nogaylieva, Deputy Head of the Department of Educational Programs, SPSU; Anna Kruglova, Baker & McKenzie; Elena Novoselova, Coleman Services IK Ltd.; Wilhelmina Shavshina, DLA Piper; Ekaterina Novikova, DLA Piper.
310516_Presentation_AEBNWRC2016_Round table.pdf

View/Open