13.12.2019
On 11 December 2019 the business meeting entitled "Doing Business in Russia: Success Stories of Belgian SMEs" was held.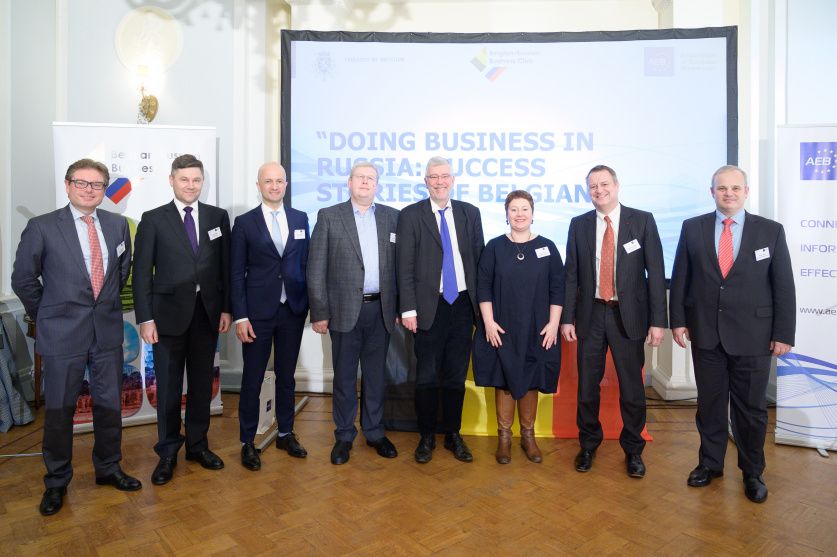 The event was jointly organised by the Embassy of Belgium in Moscow, the Association of European Businesses (AEB), and the Belgian-Russian Business Club (BRBC). 
The meeting was focused on the experience accumulated by Belgian companies on the Russian market and provided a platform for the discussion of current key issues related to SMEs and entrepreneurship in Russia. It was aimed to raise awareness of European SMEs operating in Russia on available instruments to address the main challenges and to better exploit the market opportunities.
The meeting was moderated by Tadzio Schilling, Chairman of the AEB SME Committee; Head, German Business Center, EY. 
Photo L-R:  
Marc Dellaert, Member of the AEB Council of National Representation (Belgium); Managing Director Russia, Eastern Europe, Turkey and Central Asia, Center for Creative Leadership; 
Grigory Saks, Import Manager, PRALINE RUS; 
Tadzio Schilling, Chairman of the AEB SME Committee (moderator);
Pavel Goryunov, General Manager, Barco Services LLC; 
Jean-Arthur Régibeau, Ambassador of Belgium to the Russian Federation 
Helen Moris, Individual entrepreneur in the consultancy/ training sector             
Johan Vanderplaetse, Chairman of the AEB Board; Chairman of the Belgian-Russian Business Club (BRBC); President Russia & CIS, Schneider Electric
Ruslan Kokarev, AEB Deputy CEO- Chief Operating Officer